There are several utility apps out there – ranging from architecture app for iPad to security apps that provide professionals and casual users of the internet a safe and reliable way to obtain access while ensuring that their identity is preserved, and personal data is protected. Let us see about one such app. We all need to access the internet from various locations, and using free WiFi can present unpredictable results, with so many hackers searching for data and stealing identities. If you are looking for another option, consider VPN One Click Professional.
It's easy to setup, simple to use, and keeps your data safe. Whatever device you use to connect to the internet, it will be provided with a public IP address that is different from its actual IP address, and this address will also make it look like the device is from another country, adding an additional layer of anonymity, so to speak.
On a professional level, you are able to access the internet safely and securely without being tracked. On a more casual level, you can use VPN One Click Professional to access the internet and stream videos, watch movies and TV shows from different countries, all with your device's identity hidden to all.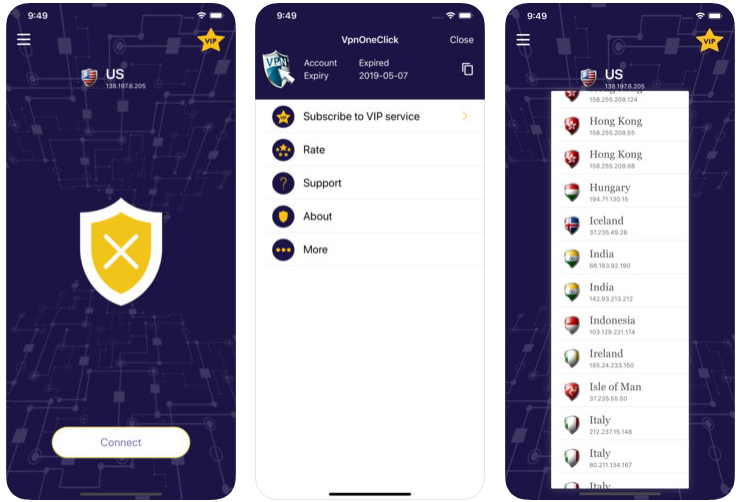 VPN One Click is available for users in over 51 countries across almost every continent. The list includes the U.S., U.K., Australia, Japan, India, Brazil, Nigeria, and many more. The full list can be found on the app's description page in the App Store.
The app is free to download and comes with a 1-week free trial period. Once that ends, and before it does, you should sign up for one of two available subscriptions. I would start off small if you are not absolutely sure you want the service. There is a monthly subscription for $2.99/month. If you know you really want to use this and are convinced from the get-go, you can save some money by signing up for the yearly subscription, which costs $14.99/year.
To use, you simply download the app, and then look for virtual servers from different countries that you want to hook up to. Tap on one and then tap on "Connect" and you are good to go. The service is steady, and rarely will you see disconnects. Streaming will be smooth, based on the speed of your device.
For newcomers to the use of VPNs, it would be nice to provide a better description of the product in the App Store. As it stands, there are more details provided on the subscription pricing and renewals, and it could use a more details description of what the app provides and how to use it.
Once you download and try it out, you will tap around here and there and finally get to where you want to be, connected and linked into the internet. Give it a try for a week to see if it's a good fit for you.