Saving for college doesn't have to be hard. If you have the right tools, you can be on your way to putting some money aside so your kids don't have to completely rely on loans. Whether you are a parent or grandparent who is looking to help a child have a great start to their future, your first step is to set up a 529 account and then watch the savings grow.
U-Nest is an app that brings all the tools you'll need together in one place, so you don't have to expend more effort than downloading an app, creating some accounts and then funding those accounts. U-Nest is backed by Invesco, who has financial professionals that will ensure each savings plan you create, which will be based on each child's age, will grow respective of that child's age, providing you with funds to help pay for college when they are ready.
Free to download, the only fee you will pay is $3/month for each account you set up. This is much cheaper than paying a financial planner or advisor to manage your 529, which means you keep more of the money your investment makes.
The app itself is very easy to use with intuitive screens and an easy to read layout. To create a 529 account, all you need to provide is information about your child: name and age; information about you, as you are the account owner; a password and an email address. Once you've entered this information you add a bank account. This will be used to fund the accounts, with the minimum monthly investment being $25/month. Investment allocations and plans will be determined based on the child's age, to ensure the mix and risk level is appropriate.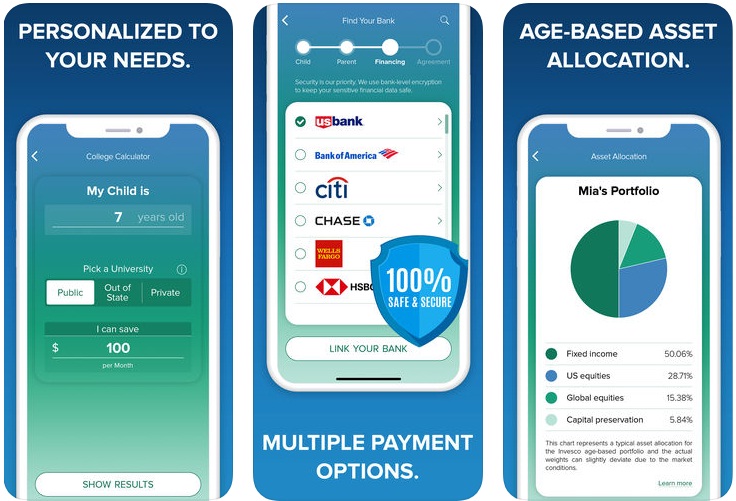 Once you start funding the accounts, the accounts take care of the rest. Invesco is the company that oversees the management of these accounts. The app simply provides an easy to use portal into your accounts so you can see how they are doing, change investment amounts coming from your bank account and track progress.
One of the more convenient and useful features is the graph showing how the account is changing over time. This provides you insight on whether or not to adjust the amount you invest per month or adjust investment options.
Because you've provided banking information and personal information about your family, there may be concerns about data security and protection, but be assured that the app has the same amount of protection as any banking app would have, so your data stays safe.
I would love to be able to export some of this data and be able to print it, especially if I could see it as a report showing all accounts at the same time, just to get a full picture of where all the accounts stand.
U-Nest should be on your radar if you are looking for a convenient way to start saving for college.