As an iPhone or iPad user, one of the best ways to seamlessly enjoy your device is to have a good working keypad. You may want to consider using a third-party keyboard with your device because it gives you the opportunity to uniqueness in terms of keyboard color, customized fonts, and styles, theme, size to mention a few. The most important thing your keyboard must provide for you is the ease of typing, user interface, and auto-correct to fix spelling problems. Based on this premise, I will be writing a review of a smartphone keyboard app called Typewise which bagged the CES Innovation Award 2021 Honoree.
Typewise keyboard was released in Switzerland as a completely new designed keyboard. It composes of tiles shaped in a hexagon and a layout of QWERTY, in a structure to fit the keyboard of the device. The keyboard operates offline and ensures privacy. The keyboard is popularly known from NZZ, Spiegel, Brand Eins, and so on. Also, Typewise keyboard is known to have about 80% fewer typographical errors compared to other keyboards because of its hexagonal design and its keys that are 70% larger.
In addition, Typewise keyboard has smart intuitive gestures in-built. Some of the features include swiping up to capitalize a letter, swiping left to delete a wrong letter, and right to restore the letter. The keyboard boasts of a high and intelligent auto-correction feature. Typewise helps you prevent typographical errors by correctly predicting your spellings and sentences. These features let users enjoy an amazing typing experience.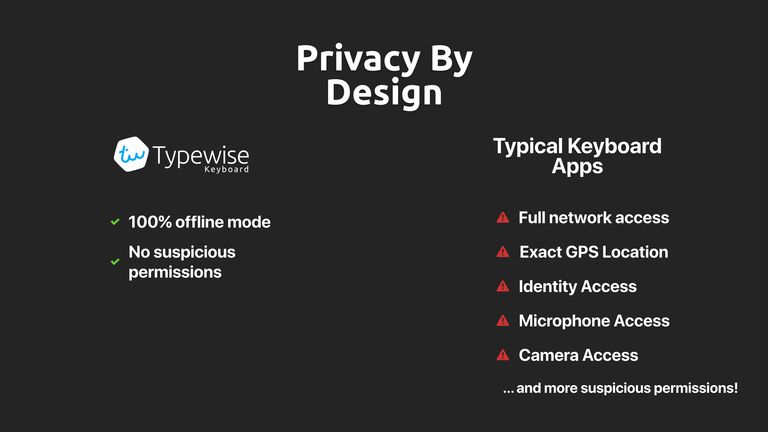 Also, Typewise ensures that what you write is private and personal as the keyboard does not need full access and does not store your words in a system cloud. Thus, this means your typing is fully kept private. You can as well shuffle between two different keyboards, with just one click. The keyboard also allows you to choose your language because it has over 40 languages. The keyboard has an emoji-style to fill up the fun in typing as well.
You can do more with Typewise if you upgrade to the pro version. Some of the Types Pro features include having more than 16 themes, a personalized word prediction, creation your text replacements, change behavior gestures, automatic return to letters after case, swiping down to undo-auto-corrections. The app developer openly stated that Typewise may include features for handling the users' social media. This will be monitored by the app data protection privacy policy.
Typewise keyboard can be relied on for a variety of reasons. It doesn't only have a bunch of cool customization features but also keeps your data 100% private and type like a pro.