"If you don't find a way to make money while you sleep, you will work until you die." – said Warren Buffett
Saving money is the need of the hour and holding a savings account alone isn't enough to become financially stable. To get potentially higher returns, you must be willing to wait patiently and take informed risks. With high-speed internet and a smartphone in your hand, you can view all finance-related news in one place and also stay up to date with every minute of market movement. And to aid you in your investment journey, a play store app will come in handy. With plentiful finance-based apps promising the best results, it can be overwhelming for you to pick one.
If you are a long-term investor who is constantly on the look for financial news and market insights, get ready to be blown away. TradedTrends is a Market Research app developed by developers who go by the same name as the app. The app assists you in enriching your knowledge and helps you make informed investment decisions.
The small-sized app gets downloaded and installed on your smartphone with the snap of a finger. Click on the app icon and sign-up with your e-mail address to get started. With the unique app, you can
Explore all the latest financial news instantly.
Gain valuable insights into market trends.
Analyze value, interest, and sentiment.
Add your favorite equities and track them.
Gain access to your personalized news feed and more.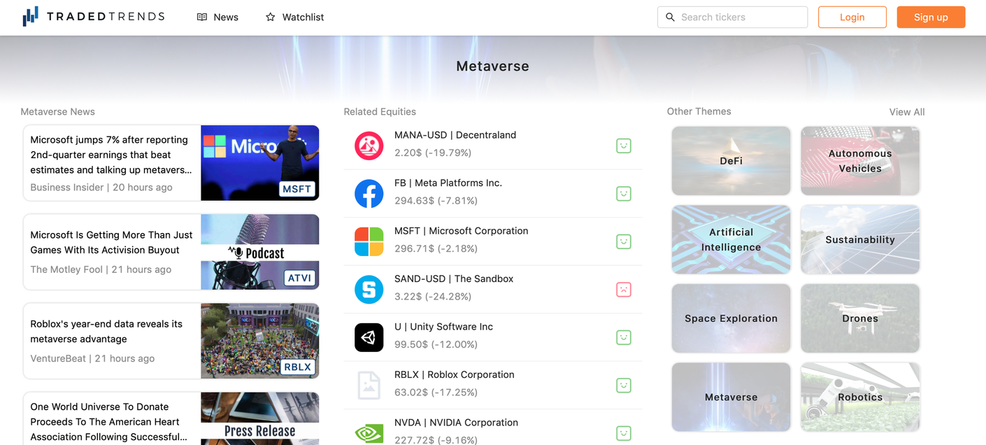 The app opens up to popular news from renowned websites like CNBC, Coindesk, Forbes, Barrons, The Dog of Wall Street, Crypto Briefing, Bitcoin, Bloomberg, and more. If you want a personalized feed, you can choose from a wide range of topics and add them to your watch list.
Crowd psychology and emotion create discrepancies between value and current market prices. You can see General Market Sentiment to guide your investment decisions. TradedTrends will help you act and make uninfluenced decisions as an individual. You can choose a global investment theme from the list that includes 5G, FinTech, AR, BioTech, Crypto, AI, Crypto, IoT, and more. In addition to identifying the key market players associated with them, you can also catch the related news and Top Tickers.
By clicking on a Ticker, you can learn about its TT score, analyst rating, target price, moving averages, equity news, along with the volume of search queries the platform gets on Google. Click Highlights, News to know more and add favorites. You can also view a list of popular equities emerging in the news this week at the bottom of the Discover page.
TradedTrends help you analyze emerging macro trends, identify and shortlist key sectors and invest in its promising equities. A range of methods used by the app helps forecast the true, present, and future value of an equity or an entire market.
Download TradedTrends now, identify and analyze global trends to make better investment decisions. An investment in knowledge always pays the best interest.