Have you ever gotten into a row with a close friend on a restaurant bill while splitting it? Money is forever an intricate subject, and when asked for a share, people don't always respond well. Even if you split a hefty restaurant bill fair and square, you will end up antagonizing a dear friend unknowingly in the process. Eating out does not become a burden until the bills that are split unevenly account for a significant amount of money. Towards the end of a year, you will end up burning a big hole in your pockets, especially when you pay most of the time.
The splitting becomes even more difficult when a friend who is on strict diet orders just a salad while everyone else digs in the Japanese Kobe Steak. A light-eater would never be willing to pay a steak-sized portion of the restaurant bill. If there were a way by which you could split every possible bill amicably without destroying your friendship, wouldn't it be great?
"Splitmo – Split Receipts and Bills" by Splitmo is a finance-based play store app that splits your bills for you. The app is so small that it gets downloaded and installed even before you realize that you had hit that install button. With this app, you will not face any login issues as you will not be forced to sign up to use the app. All you have to do is just click on the app icon and start using the app right away.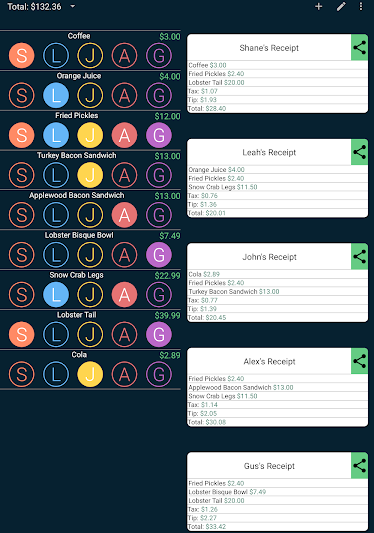 On the home screen, add the names of your friends with whom you wish to split the bill, and scan the receipt. You can also upload an image of the bill from your gallery. And voila, the app will do the math for you and spare you the pain. The app also has the option to do a fast split by splitting the amount equally among a group.
Go to the settings and enter a Venmo / Cash app username to generate a link to your user profile while you share a split receipt. If you wish to split the tax and tip, you can enable them under settings. Or you can pay the tax and tip yourself by disabling them.
The app has the facility to split the bill among some friends, split among all friends, split every item in the bill in separate ways, or do simple even splits. The tax and tip will be divided proportionally for you and the gang. You can send individual splits instantly or pay the whole bill yourselves and share the split amount later via text, email, or any other available method. Wish to see an old split bill for a future reference? Worry not. With "Splitmo – Split Receipts and Bills", you could also save as many splits as possible for future reference.
Download the free app now and start splitting receipts, bills, and invoices conveniently.