Are your appointments and meetings logged in countless different scheduling apps? Do you wish people could just know your availability rather than back-and-forth email correspondence? Then Calendar.AI App is the newest tool you should be adding to your professional toolbox! This all-in-one calendar and scheduling app is free to download from the App Store or Google Play.
Calendar.AI uses your Google, Outlook, and/or Office 365 account(s) to bring all your calendars into one space, so there's no more toggling between screens to see all your upcoming events. You can always feel free to add accounts or switch certain calendars on/off at any time. The 5-day weather forecast for your area is integrated into the calendar so you know not to plan an outdoor brunch meeting on a cold and rainy day.
Scheduling is also made simple with a function that allows you to assign and display your available days and meeting times. You can also designate varying availability times based on specific meeting types and durations. Within the app, there's your own Calendar.AI link that you can share with invitees to take them to your scheduling page. Once this page is reached, invitees have the ability to schedule a meeting time that works for the both of you. Users can also reschedule and cancel meetings, which automatically alerts group members of the changes. Pretty nifty!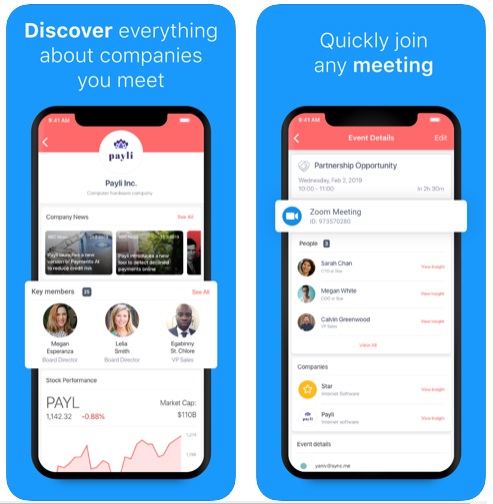 In addition to calendars, integrated conferencing technologies allow you to easily share links to your Zoom, Google Meet, Microsoft Teams, or Skype video conference rooms. Upon scheduling an appointment, users receive an email that includes the video call link, along with other detailed meeting information. So even if your invitee doesn't have the Calendar.AI app, they can still find the video call link simply and smoothly.
Another aspect which makes Calendar.AI unique is its "insights" functionality. Insights are resources within the app that allow you to learn about an individual or company's background. This information can include social profiles, employment history, key company members, news, and more. Insights allow users to quickly brief themselves on a contact or company before an important, anticipated meeting!
Within the free version of the app there is a limited ability to view "insights," restricted to mainly name and contact details. However, in the Premium version, you unlock 30 people and 30 company insights a month with full information included. And in the Pro version, this becomes an unlimited amount of insights, along with priority support from Calendar.AI.
Although Calendar.AI has a very sleek and polished interface, there is a bit of a learning curve upon first downloading, especially if you have never used a professional scheduling app before. There are so many options and functions within the app, the disadvantage is that it can be a bit confusing and daunting in the beginning.
For the on-the-go businessperson, Calendar.AI seems to be a hugely handy app that essentially works for you as a personal assistant. It eliminates the problem of multiple calendars scattered across multiple accounts, and offers a creative scheduling solution to avoid an irritating game of "email-tag." Additionally, the built-in ability to share video conferencing links without having to actively copy, paste, and send is also a convenient function. And perhaps most useful of all is Calendar.AI's insights which create a great opportunity to get ahead of the curve without the chore of long-winded research.