Arcade games seem to be very easy but not all of them are that easy. For playing Tiger Adventure Run you have to be super concentrated as it takes just one wrong move to lose. It has endless gameplay with ultimate challenging obstacles. You can download it for free and it is playable while offline too.
Tiger Adventure Run is easy to play and very addictive. With every passing level, it becomes harder. The gems can be collected while jumping and running and you can unlock different characters by spending gems. Every character is mysterious and fun as they do not reveal the face of the character. This game does not require you to fight, defend or destroy your opponent or enemies: this fearless Tiger actually tests your intelligence, reasoning power and your capacity to react very fast.
By jumping on the blocks you need to tap on the screen, you have to collect gems to make a high score and avoid dangerous obstacles. This super-fast game takes your presence of mind to jump on the other block. The blocks keep on changing their shapes. So, you have to be very careful while jumping on the other block because if you are not careful then you may fall in the pit. You should avoid pitfalls by double-tapping on the screen.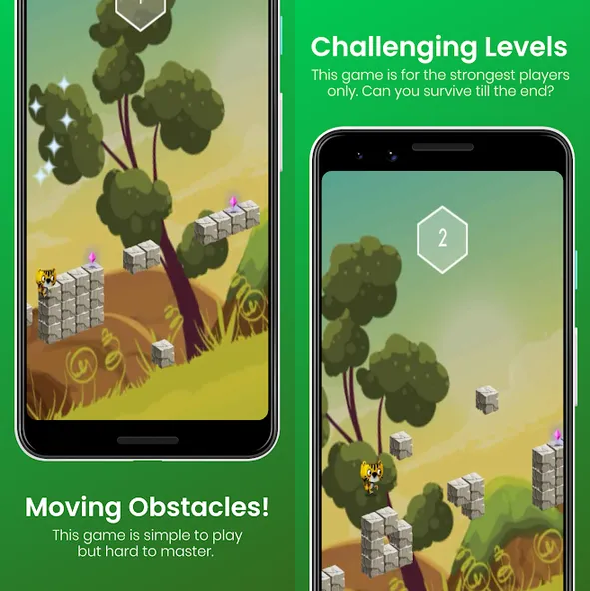 It actually keeps you to stay focused on the screen as you are trying to avoid the various obstacles and complications. With every increasing distance, you got more gems by which you can unlock different characters. Initially a tiger is available but after spending 500 gems more interesting characters can be unlocked.
Create a high score and share it with your friends and challenge them. The beginning stages are very easy to play; they are loaded with extra benefits and bonus coins that come with the game. It is also loaded with loads of excitement as you move higher in the ranking.
No one can be bored with this game for sure. You can be addicted to it very easily. The characters are so funny as whenever the character falls it creates Ahh.. sound which is quite interesting. In the background, this game has a jungle that unveils its adventurous side.
The game doesn't glitch or lag which is the best part. This game is not very easy to complete and you will surely face difficulty in making a good score. There are hundreds of stages of gameplay that is distributed across the three levels, each growing in excitement, complication and challenge.
This game boasts some amazing sound effects with 3D graphics. So what are you waiting for – you can start your jungle adventure and successful exploration in this exciting run game to survive the journey ahead.