Brain teaser games come in all sorts of shapes and sizes. You have those that test your skills with numbers. You have those that are a play on words.  If you like challenges that are pattern based and requires some trial and error, dispair is the game for you and it's available for Android devices.
While dispair is not meant to be a play on the word "despair", it is a play on two things you will be using in the game. "Dis"stance and "pair". Your aim is to use a set of clues provided through a score on distance between two letters and a pair of letter. Your final outcome is to create the correct sequence.
While this sounds fairly confusing when you read it, it's best to open the app and watch the tutorial first. Then it will all make sense. The creators of the app have done an excellent job of creating a tutorial that is easy to follow and one that guides you through the steps needed to complete a game. Within the tutorial there are hints you can choose to help you understand what you are looking at and how you can use the DIS and PAIR information to find a solution. The tutorial also explains the concept of game play levels and what you may expect to find at each level.
Speaking of levels, there are five of them, starting with Level 4, all the way to Level 8. And, as expected, you must complete one level before graduating to the next.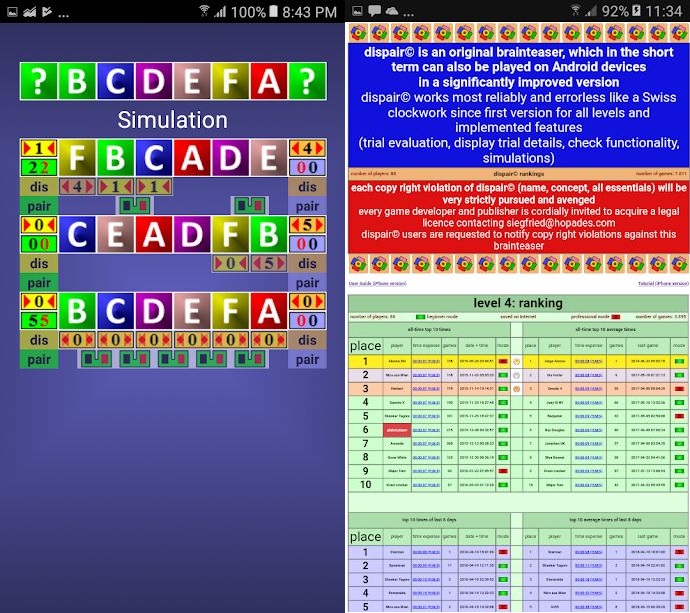 To start, you will have to register to play. This sets you up with a profile, which of course helps you stand out in rankings amongst other players. After that, you watch/play the tutorial and then you are ready to play at Level 4. The aim of the game is to put a sequence of letters in the correct order. Each game comes with hints that you can choose to use. During initial game play, I highly recommend using hints so you can learn faster.
Once you have the letters in the order you think they belong, click on the Check button, and the app will let you know how close you are. This results in recalculations of the DIS and PAIR hints. You keep playing until you reach the correct answer.
What is great about this game is that you can make it as easy or as difficult as you want. This makes it a great app for kids as well as adults. This is done by being able to set the difficulty level to your abilities. With some in app purchases, you can buy higher levels and more flexibility in game play, such as being able to publish your results online, adding an element of challenge.
At first, the overall layout of the letter tiles and hints seems overwhelming, as if you are being asked to solve some complex mathematical matrix made of letters. Once you play a few times, it does get better, trust me. But still, it would be nice if the developers could change up the layout or make some improvements to make it less "engineering" looking.
dispair is fun for anyone who is looking for a challenge that start off small and grows with you. You can choose to use the hints and transparency option early on to build up skills that will move you towards more difficult levels and bigger challenges. Once there, you can turn them off and set out on your own!