Have you ever consider reducing human error in any transaction? Maybe you aim to be fast and still be effective and excellent? Then the SEQR Code Scanner is a valuable and viable choice for individuals or businesses looking to improve efficiency and increase security for any payment system.
The speed of the SEQR Code Scanner tracking system is beneficial. For record-keeping purposes, the system's speed allows tracking to be done quickly and safely without losing any information. Do you know that because using a barcode is now a part of people's business, most individuals have lost their personal information to advert companies?
But with SEQR app, you can now be sure about the safety of the QR codes you scan and safely complete transactions without losing any of your personal information to any advert companies. There is no more panic about scam alerts or making improper payments to insecure websites.
Some of the Quick Benefit of using the SEQR App;
You can scan and read all kinds of QR codes that come your way. This includes any QR payment code, website scanning, advertisements, products, contact, telephone, SMS, email, calendar, locations, restaurant menus, and more.
The SEQR App gives on-time context-based information about any QR code.
You will be alerted if there is any danger or malware or risky URLs when visiting such websites.
The SEQR App provides a feedback notification when proceeding with risky and unsafe URLs on your device.
There is absolute safety with the QR code, as you can scan to complete a transaction without any compromise.
You can connect to any available WiFi network to view several details about a different product.
The design of the App is to protect your privacy. Your personal information on your device is safe, and the App does not collect nor give away your data.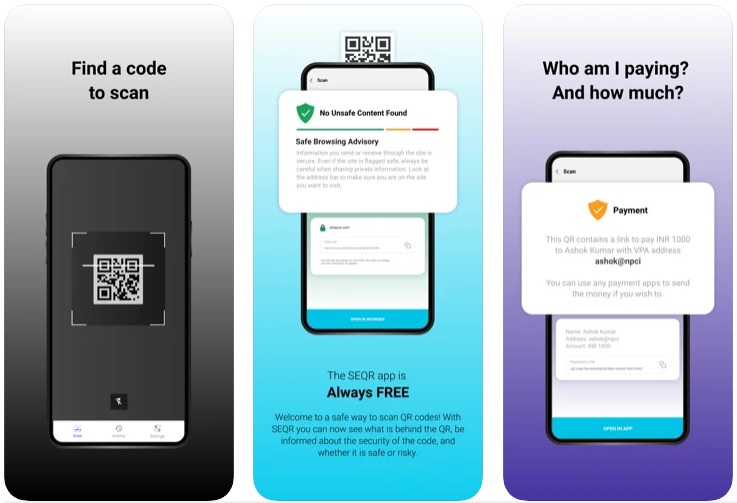 The SEQR App promote better decision making by giving accurate and on-time advice. The app obtains its data rapidly and accurately from various online sources. So, there is a high possibility of making more informed decisions. With the SEQR App, you can improve decision-making, ultimately saving both time and money.
The SEQR uses a much simpler user interface to highlight the key pieces of information required to choose. The app is very inexpensive (free) and user-friendly for keeping accurate records of any business transaction resulting from a payment system or website.
As compared to manual tracking, which may lead to many errors from humans, the SEQR App scanning can track items with an error rate of about one error for every three million entries. At this rate, this App is nearly 10,000 times more accurate than manual entry.
Compared to other barcode apps, the SEQR does an internal system check and balances for every website you opened. It does several security checks from billions of online sources to verify the authenticity of the website. After each search, the App provides visual cues to alert the user about a potentially risky website URL or if the website is insecure and its payment system can be hacked.
Dhiway SEQR does not require any personally identifiable information to be used, and it does not include advertisements or promotions in its content delivery. Users' security is the watchword of this app.