Do you know that if you don't put your brain into active thinking or brainstorming, there are high chances that your mind will be filled with junk? If you agree that brainstorming is good for your health, how often do you brainstorm to solve problems? For some of you, it is once, while others are none at all.
The LogicLike fun game isn't just fun or excitement, even though you will have many of them. But, the game is for keeping your grey matter super fit and your brain on the form. Do you know that studies have shown that a dexterous brainstorming game like LogicLike makes one happier, healthier, and live longer?
The LogicLike is an engaging brain game for kids between the age of five to twelve years old. Also, adults are well welcome to play the game to improve their cognitive functioning and stay active. While the right exercise and healthy food are crucial, but nothing beats up a taxed mind from quizzes, puzzles, and brain teasers.
Some of the Quick Benefits of using the LogicLike game Application are as follow:
The LogicLike game App boost the overall brain activity
It also increases your memory power
The LogicLike game lessens the risk and slows the decline of dementia
It improves your memory and the speed of your brain processing information
In this fast pace world, people get bored quickly, but the LogicLike game App reduces boredom
Drastic improvement in your concentration level
It connects you with over 2,000,000 players from all around the world.
You can earn prizes and stars for the completion of each stage to boost your morale.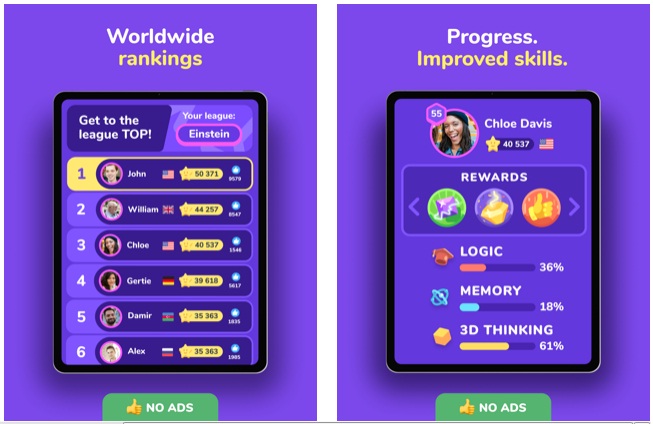 The LogicLike game has over three thousand five hundred (3500 +) puzzle to keep your children, family, and friends together. It is another way of spending quality time with the family of like-mind. You all can have fun and achieve your goals by earning stars, getting rewards, and unlock secret LogicLike collections.
Although the logic puzzle, patterns, chessboard puzzle, math puzzle, true or false question, and other algorithms functions may be easy or hard. Therefore, you need to implement a different thinking process to solve it. This is because the LogicLike game is design to stretch your mind and encourage you to think outside the box.
Due to the current distraction around the world and social media, the LogicLike is a perfect game application to improve your children's concentration. 3D thinking enables your children to focus on how to do things differently from the popular opinion. It also enables them to think laterally and finding creative solutions to problems.
The LogicLike game app is not just any ordinary game app, but its success speaks for itself. This game App won the Runnet Prize in 2017 as the best Educational Media Project in the "Positive Content" competition. Also, in 2018 the LogicLike game App won the Brand of the Year in the educational category in the yearly professional competition.
Improve yourself and your children's mental health without paying a dine.