For anyone who works will color, they know how precise each shade and hue must be when choosing the right color for use in design and decorating. While you can eye it for comparisons, the best choices and matches are made when you add a little science into the mix. This means using data and an app to help you create a color, identify it and use it.
Identification can be from a variety of color systems. One popular system is Pantone. Color Query Pro is an app that can help you capture a color you've fallen in love with and helps you identify it in several coloring systems so you can take that numeric representation and find it in a paint or other medium. Color Query Pro is a useful tool for artists, graphic designers and everyday colorists in general. Whether you are creating the next great masterpiece or painting your family room, Color Query Pro can help you find the color that you need.
The app charges a small fee but delivers a great deal of functionality. It's almost like having a mobile lab at your disposal. You can take a picture of something that has a color you want, and the app will go to work picking it apart and figuring out its color coding in various color systems. I mentioned that the app uses Pantone system, but it also supports Sherwin-Williams, BEHR, Valspar, Resene, Colors of Japan, Federal Standard 595 systems and more. The app's information page lists many of them.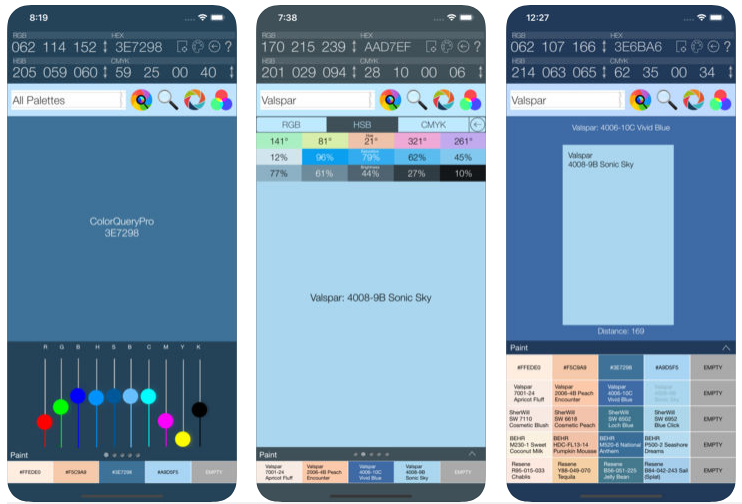 In terms of coloring breakdown the app uses the following types of coding:
RGB – commonly system for color representation on a screen. R is for Red, G is for Green and B is for Blue.
CMYK – a color printing model. C is for Cyan, M is for Magenta, Y is for Yellow and K is for Key. The Key defines the mix to create a color from varying levels of CMY.
HSB – defines hue saturation and brightness and is device independent system.
HEX – 6 digit hexadecimal number that represents a color code. The code represents the intensity of red, green and blue to create the final color.
Once you have a color in the app, you can tinker around with the different levels of coding to make minute adjustments and get it to the exact shade you want. The interface is very easy to use and fairly intuitive. You can then save the shade and name it the way you want. The scientific coding will be captured, and you will be able to take this to any paint store to get it made.
The one thing that would be interesting to have would be the ability to connect to a printer and print out a sample of the color you have captured in the app. This would give you something physical to put up against other items, let's say, if you were shopping for items in a room that is painted that color.
If you are in the market for an app that lets you create colors and save them for future use, Color Query Pro is definitely an app to consider.