So you're finally ready to get a cat of your own, but where should you go to find the feline friend of your dreams? Which cat breed is suitable to your lifestyle? What's the energy level of a Havana Brown? Luckily, there's an app that can answer all your kitty-centric questions. Feline Finder is a free to download app available from the App Store that is there to make the process of finding your "purr"fect match easier than ever!
Upon first opening Feline Finder, you are offered a short, helpful video tutorial that walks you through the process of effectively using the app. From there, you can move on to the breed suggestion quiz which asks questions related to your lifestyle and how you would like your future cat to fit into that. These questions range from desired energy level, to intelligence, to grooming requirements. Once the quiz is completed, the app calculates your results and determines which breeds would be best suited to you and your lifestyle.
Not only does the app give you a comprehensive list of breeds and compatibility percentages, it also provides you with a detailed history, pop culture, and temperament description for each and every breed of cat, on or off your compatibility list. In addition, the app provides photos and videos of each breed, a stat graphic which shows the cat's characteristics compared to your quiz responses, and the places nearest you to adopt that breed.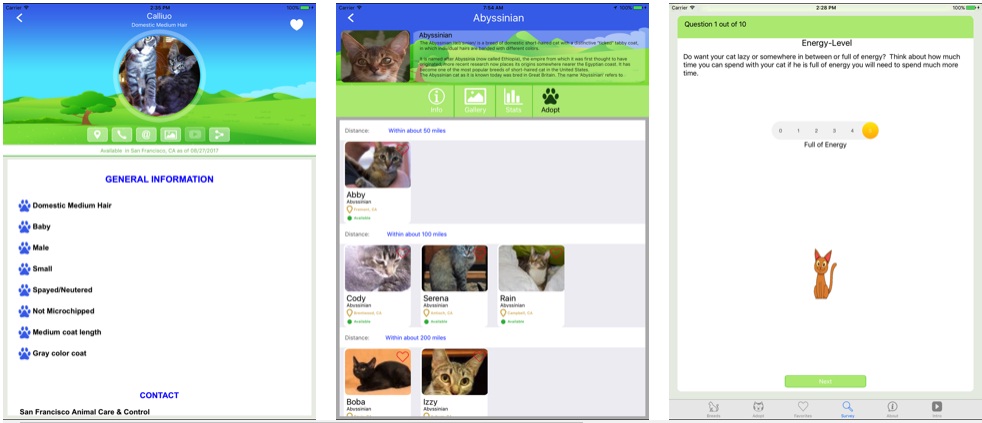 If you wish to browse cats for adoption not based on breed, there is also an "adopt" tab which shows you a database of all cats up for adoption nearest you. There's a filter feature which allows you to apply numerous specifications to your search. Each listing can include a photo of the cat, general information about the cat (breed, age, sex, etc.), a short description, and contact information for the adoption site.
There are also shortcut links within each cat's profile to call, email, or view the adoption location. You can tap the "share" link to quickly show the cat to your friends, or the photo and video links to see the kitty in action! It's also possible to "favorite" a cat to come back and view them at a later time. It certainly seems that Feline Finder has one of the most thorough search databases for cats out there!
There is definitely an abundance of information to be found on Feline Finder, but surprisingly that does not make it difficult to find what you are looking for. While the interface is intuitive enough to navigate with ease, the visuals and styles are a bit dated and it could use a more modern, clean look. However, you can tell there was certainly a lot of effort put into the app with the huge amount of information, and even cute extras like cat-shaped transitions from screen-to-screen.
Feline Finder promises to help you find your forever feline with their short, yet thorough quiz about you and your cat's compatibility factors, a huge database with over 100,000 rescue cats registered, and a wealth of information about each and every cat breed. Only displaying rescue cats, the app is an ethical one that promotes pet adoption as opposed to breeding. It seems like the perfect app for those who are looking to find answers to all their cat adoption questions in one place.