If you have planned an event ahead and in need of an artist to perform, you must possess the technical know-how in booking a player, musician, poets, professional dancers, and creatives. If you are not aware of the process, you might end up booking the wrong person for your event or burn a hole in your pocket. There are various factors to be considered prior to book an event, such as the budget, requirements in an artist, and interest of the planned audience. Once you have outlined the above, zeroing in on an artist can be a real headache if you are not informed of where to look. 
With a middle man to help, you can be satisfied with the outcome, but they are sure to fork out extra money without you noticing it. If only there were an all-in-one place where you could find and book artists by yourself, wouldn't it be great? GigMePro is a social networking play store app by Joshua Nicholson aimed at musicians, singers, poets, professional dancers, and creatives alike. The app is too small that it gets downloaded and installed even before you know it. The vast database of artists lets you get a front-row seat to exactly who you will be hiring for every event.
Once you click on the app icon, you will encounter various options to log in, rate and review, invite and donate any amount. You can log in to the app using your FB credentials or create a new login providing your username, address, e-mail id, and entering a password. On the home page, also named the ProWall, you can post what is on your mind, accept friend requests from like-minded people, search for a user & start socializing, and view notifications, if any.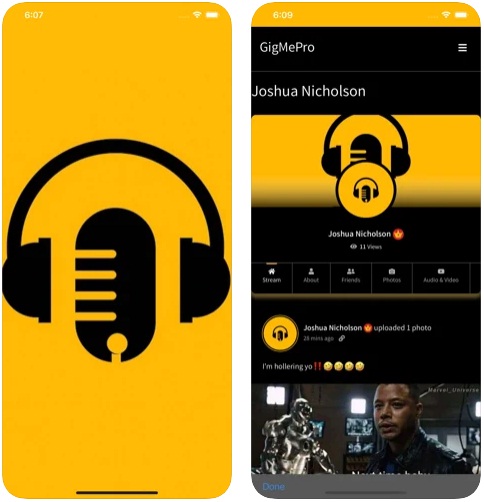 You can join GigMePro as a creative or consumer. If you log in as a creative, you can write a bio for your consumers and fellow creatives. In your profile, you can describe your artistic history with as much detail as you could fancy. You can upload photos and videos that would advertise your talent, making it easy for consumers to choose you over the lot. You can also network with artists around the world. When a prospective customer views your profile, your bio requires you to impress them into hiring you. The customers have the option to contact you through the app. And as a creative, you have the freedom to set your own monthly booking schedule and prices, no questions asked.
If you are a customer seeking a creative, the GigMePro app gives you access to creatives from all genres. You will be able to consult and book them directly from the site without the involvement of any middle man. If you are satisfied with their service, you are free to leave a review in the GigMePro social app.
Avail the assistance of the one-of-a-kind play store app that bridges the gap and connects creatives directly to opportunities, all for free!