Let's start the article off with a few fascinating facts about golf. While most ball games are played in standardized areas, golf is played in varied terrain on different courses. A standard Golf course has 18 holes, while recreational Golf courses are comparatively smaller and have 9 holes. A Golf game is played either for the lowest number of strokes called stroke play or the lowest score on individual holes called match play.
Though the game's origin is unclear, the modern golf game originated in the 15th Century in Scotland. Historians trace golf back to Paganica, played by the Romans using a bent stick and a stuffed leather ball. However, according to a painting entitled "The Autumn Banquet" in 1368, members of the Chinese court are observed swinging a ball using a bent golf stick. In 1457, James 11 of Scotland banned the game naming it unwelcoming and a diversion to learning archery. The ban was lifted later by the then-serving king of Scotland in 1502. He became a great golfer himself, recording the first golf clubs between 1503 and 1504.
Did you know Musselburgh Links, East Lothian, in Scotland is certified the oldest Golf Course in the World, by the Guinness World Records?
If you are a Pro at Golf, you might have found these details interesting. Nevertheless, do you note down your hole scores in a scorecard? Do you make a scorecard all by yourself or use the ones provided to you by the golf course? If you have ever wished for an easier way to make a note and calculate your scores, the "Dormie Golf – Match Play & Tournament Manager" app by Karate Kitten Studios does that for you.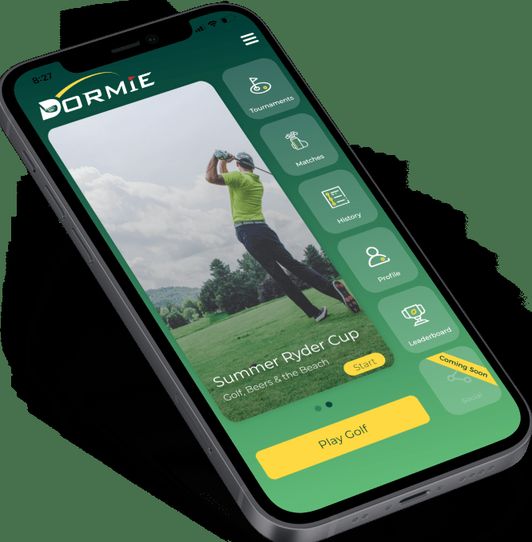 The app is too small that as soon as you hit the install button, it gets downloaded and installed instantly. Dormie Golf is not just a Golf Tournament & Match Play Calculator. Would you like to know what other features it provides?
Integrated real-time scoring
Leader boards
Advanced Tournament features
Scoring alerts and much more
Dormie Golf renders the best Golfing experience for individual players of all skill levels, Golf clubs, and Golf courses. Input your hole-by-hole scoring data and track your progress, historical data, and competitions in one place.
To start with, register yourself with Dormie using an email address and the zip code of their preferred home golf course. Select a screen name, provide your Index, and you're in!
As soon as you are all set for a match, click the Play Golf button, set up match details by choosing your format, pick your golf course, and add players. When you are all done, press the End Match button, and the results are instantly reflected on your profile and the System Leader board.
Dormie proudly introduces Hollywood Mode, where you can play in teams among 4 players. The dozens of game modes and match types make the gameplay interesting and inspiring. Karen Kitten Studios is more than welcome to receive your feedback and game improvement suggestions.