Do you love playing first-person shooting games? Does it give you so much pleasure and enthusiasm that few minutes into the game; you couldn't help but shout at the top of your voice? Do you swear every time you kill someone in the game and get really proud at the number of people you have killed as you advanced? Few paragraphs through the article, you are going to be presented with an app that is no second to the best FPS games out there.
While FPS games can turn to be challenging for newbies, Arcade shooting games have captured the hearts of several who have tried their luck with them. You can keep playing these simple shooting games as long as you want, considering their simplicity and straightforwardness. If you are looking for something to get by quickly, arcade shooting games serve that purpose too.
Sputnik VI by Underscore Games is an arcade shooting game that is one of its kind. The game gets its name after the Russian vaccine, Sputnik VI, which triggers a very strong antibody response in just one dose. Unlike similar Arcade games, you do not have to aim and shoot at a fixed/floating bubble and remain attached to the bottom of the screen. With this innovative game, you can shoot at the coronaviruses, killing them instantly. Yes, you heard it right, the viruses that have locked us inside our dwellings for more than a year.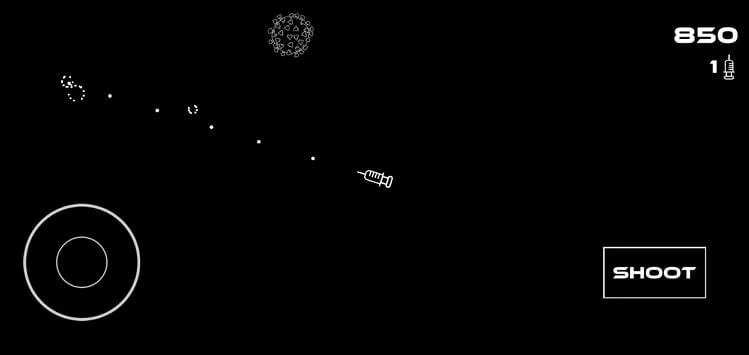 The aim of the game is very easy, kill the coronavirus and prevent them from spreading. Having done enough harm to the Earth, in a hypothetical situation, the viruses have escaped into the universe, hoping to spread to other galaxies too. It is time for you to be a hero and save the universe. You do not have to wear your superhero capes, masks and get on your cool vehicle. All you have to do is click on the installed app icon and control the vaccine syringe to shoot the virus dead. Drift right or left and fire at attacking viruses with your free-floating vaccine syringe. Take care not to let the viruses touch the vaccine syringe. Failing to do so thrice will end your game.
Since the coronaviruses emerge from all the sides of the screen, while playing the game for the first time, the slow-moving virtual joystick might hinder your fast-paced movements to kill it. However, when you proceed with the game, not only will you enjoy destroying them with a syringe, you will also fall in love with the game. In reality, even though there is nothing much we can do to contribute to the situation and control the coronavirus's virulence; the ability to kill them virtually will give us an odd satisfaction.
Crave to be a hero? Download the app now and experience the feeling for yourself.