Azedeem: Heroes of the Past is a turned-based tactical RPG game. The story of the game starts with a prophet who sees the player as the one who can save his world Azedeem from a great upcoming catastrophe. Through the scenario, the prophet explains that the player will gain strength by fighting with heroes, and will fight against demons and sects of demon's worshipers. His path will be hard, be the player will have to endure harsh battles before saving Azedeem.
The game is a gacha type: the player will have to summon and fight with heroes, and can use spells scrolls to help them in battles. Each hero is subdivided in five factions (orcs, elves, ogres, monsters and humans), five classes (archer, assassin, warrior, priest and mage), and has his own rarity level: common, rare, unique and epic. Summoning a hero is possible by either using heroes' fragments or using summoning stones. Both of those items can be dropped in adventure and dungeons, or can be bought in the market (unlock market at level 3 of main character). They are of four rarity, and each rarity allows player to summon hero of the rarity of the summoning method (for example, it's possible to summon a rare hero by using a rare summoning stone). Upgrading a hero is done in the House of Hero, and requires others heroes as main evolution materials. But because it's impossible to play cleared adventure levels, it's really hard to try to get a lot of fragments to summon heroes and feed them for others heroes' evolution. They are thirteen stats on each hero: defense rate, resistance rate, move, extra healing, max health, attack power, evasion, defense reduction, critical strength, initiative, critical hit, accuracy and positive cell affect strength. As expected from an RPG, stats change according to the hero's class. Evolving a hero increase his stats and sometimes grants the hero a new ability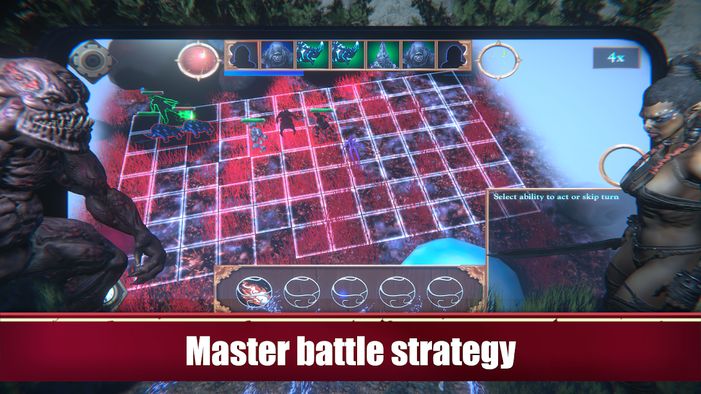 The player himself, besides using heroes, can fight by using spells scrolls. Spells scrolls can be bought at the market or dropped in dungeons, but must be sets before each fight. If they are set, the player's turn will be showed in the turn bar in the fight, and he can use them when it's his turn. But every scroll has a limited number of uses, which made them precious resources and can be game changing materials in hard battles. Those spells are divided in supportive spells and offensives, and can because most are AoE (area of effect) spells, it's better to use them wisely and always check the area of effect, especially with fire spells.
The battlefield is a 12×7 block map, with traps and obstacle. Because the fights are always a team vs team type, each team starts at each corner of the map. Maximum number of heroes allowed per team is six, but it's possible to play with less than six heroes, depend on the user's hero's box. After selecting the heroes who will fight and setting up scrolls, the battle starts.