The best way to support the community you live in is by shopping locally. In the big picture, supporting local businesses is good for the environment as they have a smaller carbon footprint than the biggies. If you live in Tampa Bay and learn of a community-based app, wouldn't you download it right away? 
Tampa Bay Connect is a lifestyle app developed by the team that operates locally. The app is available for free on the play store and offers several unique features like a package deal.
"I have apps where I receive local news happening in and around Tampa Bay, Google Maps to help me navigate through, and e-commerce apps to shop. Tell me one good reason why I should download Tampa Bay Connect?"
We hear you.
As a resident, Tampa Bay Connect helps you connect with the entire local community. Additionally, you will receive local News & Alerts, Events, Weather, and business information through the app.
You can log in to the app using your Google or Meta account or skip the sign-in process. Turn your location on and accept the app's Privacy Policy and T&Cs to start using the app. When you pass by shops, the app will use your phone's location to send you relevant promotional offers without opening it.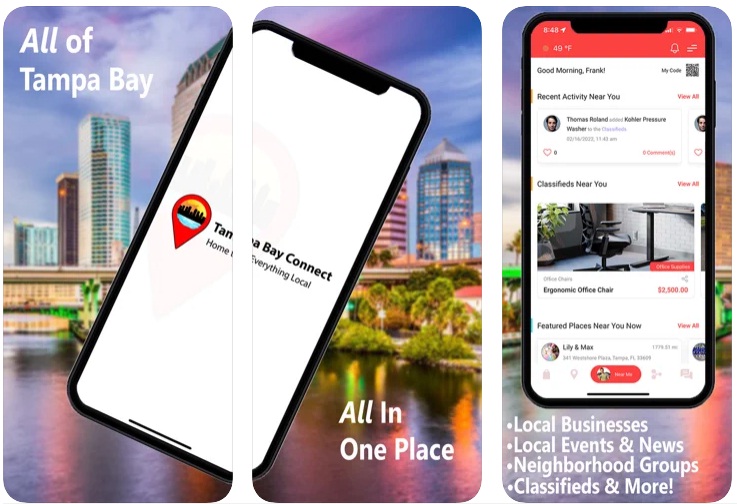 The app's homepage will feature places near you, containing a full description, address, contact number, and social media links. You will also find options to share places among friends & family and even give businesses a shout-out if they impressed you into giving one.
Tampa Bay Connect helps you discover all local places by categorizing them, including Auto Sales & Services, Food & Drink, Shopping & Retail, Bank & ATM, Pet services, Places of Worship, Healthcare, and every other category under the sun.
If you are a local business owner, you can contact the app to include yours and even generate better business leads.
If you had thought of skipping the sign-up process earlier, the following are the benefits you might miss out on
Staying connected with the Tampa Bay community through messages
Adding your favorite local places
Accessing promotions
Joining Loyalty programs and receiving Loyalty bucks that you can redeem
Meeting local business owners and their team
Viewing the reviews that you gave
Adding and viewing your Friends & Followers
Local Classifieds
Neighborhood posts and
Raising support tickets should you face issues
As the app helps you locate local businesses, you can prevent the local revenue from leaving Tampa Bay by buying from them. While doing so, you will get reward points that you can accumulate and claim later.
Posted by the top-of-the-line feeds, verified members, and city officials, Tampa Bay Connect gives you authentic information on upcoming events around you. Each event will hold the date, timings, and address, with the provision to add it to your calendar.
Owned and developed by the team in the heart of Tampa, Florida, the app aims to support local businesses and make Tampa Bay a smarter close-knit community to live in. Download Tampa Bay Connect now and share it with your friends and family.