Among numerous games available for android devices there are a few which can boast of their utility as learning tools. I am talking about Yummie4kids which is a simple yet engaging and interactive game with a gameplay reminiscent of the classic board game ludo, but with a twist. With eye-catching graphics that greet you on the home screen, it is sure to capture your and your child's imagination while teaching important health lessons. The song featured on the app mixes rap with the lyrics that give useful information, and together with great beats, it tends to stick with you.
Learning doesn't always have to be boring or expensive. The app is available for free and allows a single player, with up to 3 players in the multiplayer mode, to play at the beginner level. As they compete among themselves, it will also allow children to develop interpersonal skills from a very young age. There is an intermediate and advanced level too which is available on a monthly or yearly subscription for a few bucks. Also, you can earn reward points by entering a referral code.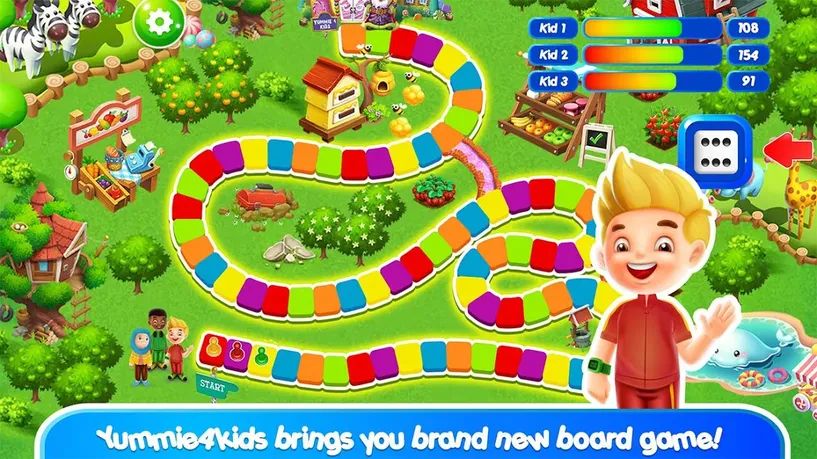 The gameplay is as simple as it could get. You have to choose one of the three characters and your difficulty level. Then, you just have to click on the dice and your token will move according to the number cast on it. Thereafter, a question related to health and nutrition pops up. There is a pleasant voice-over reading the question for you. This is where the fun begins. Now, you have to select the correct answer for which you get awarded 20 points. If you choose the wrong answer there is a penalty of 5 points. A player has to be careful because with every wrong answer, energy from the health bar is diminished which eventually results in a knockout. You can continue your turn by watching a video in this case. The one with the higher score at the end wins the game.
Yummie4kids gives you a chance to not only entertain yourself in your free time but also a platform to engage with your child in a family game while teaching him all the good lessons at the same time. Inculcating good eating habits in their child is a difficult task for parents especially if the child is fussy. This is where technology with apps like Yummie4kids offers a helping hand. The questions in the game range from very simple to moderately difficult and therefore it feeds your child's inquisitiveness and curiosity too. The incentive of getting more points to beat the competition will make you and your child want to learn more. The result is that you end up not only having fun but learning things that will serve you the whole lifetime.
The slight downside is that the questions tend to be repetitive and graphics seem too stationary to sustain longer gameplays without making it dull and boring.
All in all, seen from a different viewpoint of a world filled with so many distractions for kids, this app is worth exploring for it serves an educational purpose and not just meaningless entertainment. Give it a try!