Everyone talks about how great yoga is and while you've been meaning to attend that class down the street, somehow, something or other gets in the way. Well, now you can take yoga classes when you want, where you want. Sound to good to be true? Install YogaDownload now and find out how easy it can be.
Similar to other exercise apps, YogaDownload offers over 1500 online classes, ranging from various levels of yoga to Pilates to meditation. So, it's not just yoga. If you feel like really pushing the bar, there are several types of Pilates classes to get your muscles toned and strengthened. If you need to bring some calm serenity into your day, there are a ton of meditation classes, short and long, so you can fit a few quick sessions into your work day or settle down for a long winter's nap at night with a nice long session.
The choice is yours, which is what makes the app so powerful and valuable. If you are looking to set up a program to get you from point A to B, the app has several prebuilt programs to help you work your way from current state to desired state. If you want to customize your own, you can do that, too.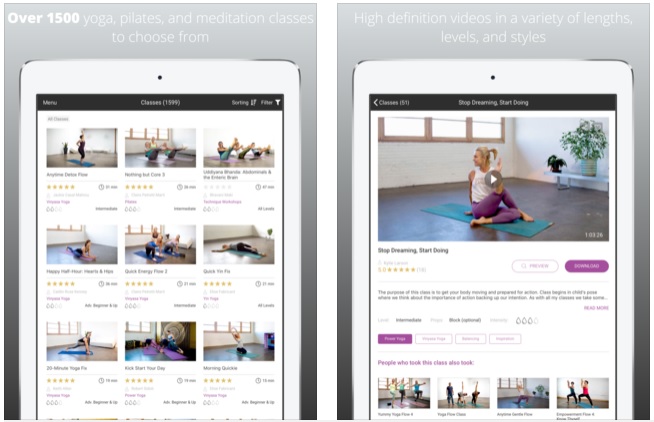 The app is free to download and lets you use a 5-day and 15-day trial, which provides full access to all classes. Once the trial periods are done, you will have to sign up for a membership in order to maintain access to the full set of classes. If you don't sign up, you can still use the app, but the free offerings will be a lot fewer.
I like how easy it was to find a class. All you do is enter how long of a session you want to attend, the type of class you are interested in, and a few other items and the app will go to work to find what you're looking for. Each class type is offered at multiple expertise levels, so you participate at a level that's comfortable for you. New classes are added every week, so the variety stays fresh.
When viewing classes, the videography and picture are sharp and easy to hear, which is a big plus for taking online classes, especially from a mobile device. I would highly recommend using this app from an iPad or anything with a larger screen for better visibility.
What would be really cool is being able to mark or "favorite" a teacher, so you can easily find other classes that they teach. It's always hard to find a teacher that fits you, so when you do find one, it's always nice to keep that relationship.
YogaDownload has made fitting in a yoga session here and there a real possibility. No more having to cancel classes I can't get to. Now, I fit in 30 min sessions where I can and make sure I get the stretches I need to stay fit and feel happier.