While fishing is an outdoor sport that does not require much in terms of high tech equipment, except for any newfangled fishing device you may have discovered, it can be greatly enhanced by using technologies to plan and prep for the best times to reel in a catch.
When to Fish is one of the better apps out there. This app will help you make the most of your time out on the water. It provides forecasts for different factors that can affect your fishing experience. As fishermen know, there are certain times of month that are more advantageous, certain weather conditions that can diminish good returns, and certain hunting conditions in terms of fish populations in different waters.
The overall design of the app is clean, making it easy to read and move around in.  At the highest level of the app, you will see the current weather conditions in your area, the temperature, wind speed, humidity levels, timings for sunrise and sunset, and the weather forecast for the day. Below that you will find Current Fish Activity, which provides a category like Average Activity and a graph highlighting 1 to 3 fish. It also shows Moon Phase, because the pull of the moon affects tides, which in turn affects where the fish are. There is also a forecast on fish activity for the remainder of the day.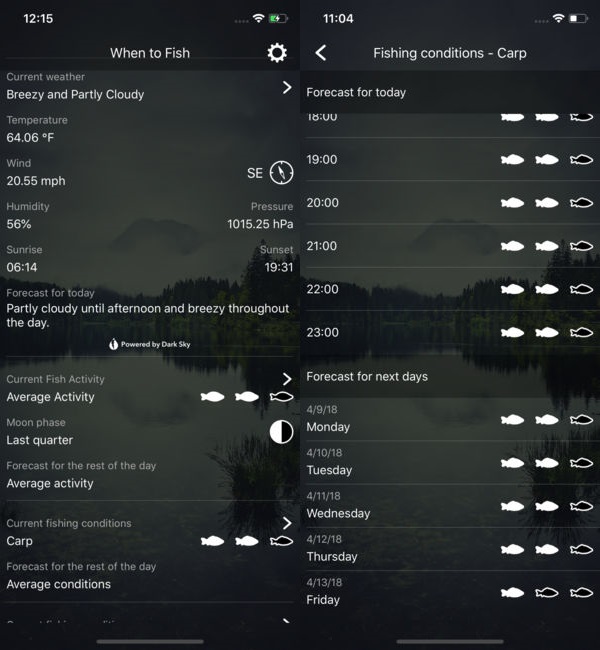 Below this there are details on fishing conditions for different types of fish. Currently, the app supports the following types of fish: carp, grass carp, zander, pike, catfish, bass, perch and bream. When you tap on this, it will take you to a breakdown of fishing conditions for that type of fish by the hour for the rest of the day and it will even show the forecast for the next five days.
The app is customizable in that you can choose the system of measurement to be metric or Imperial and you can choose either Fahrenheit or Celsius for temps. Choices can be set up under the Settings screen. From here you can also choose if you want to purchase a Premium Membership or sign up for an auto-renewing 6-month subscription.
Since there is not much that would be required in this type of app, I would say there's not much missing. That said, I would like to see the ability to share what I know with fellow fishers, especially if I'm trying to convince them to join me on a trip.
Simple by design and easy to use, When to Fish will help you plan and time your next fishing trip so you can boast about the size of your catch, every single time.