For those of you who love their streaming, whether its TV, movies, radio communication or news, you know all too well that the variety you crave oftentimes requires you to subscribe to different services. For music you have Spotify, Pandora, Amazon Music, and more. For shows, the list is endless. For sports, the same thing. Wouldn't it be nice to have one place to go to where you can find what you are looking for and get to it; and, manage all of those streaming services from one place, you don't have to remember how to get into a dozen accounts to make payments and what not.
Streamport is an app that provides exactly that. All you have to do is install the free app, on your desktop, on your smartphone, on your tablet, and you are set. All they need from you is an email, your Gmail credentials or a Facebook account. Once you create an account using one of those credentials, you are free to browse the over 5,000 items that are downloadable and the six big channels that offer a suite of streaming services.
Streamport is also very proactive at keeping their content fresh. They are always on the lookout for new streaming services that they can add to the mix, so you are never stuck in a rut. This new content gets placed into one of six channels: ArkMusic, ArkMedia, Keller Pack, Outdoor Sport Channel and Ananda Pack. You get to pick and choose which channel you want to purchase, and you make that purchase from within the app. The subscription to a Streamport channel provides you access to all the streaming services within that channel. It's that simple.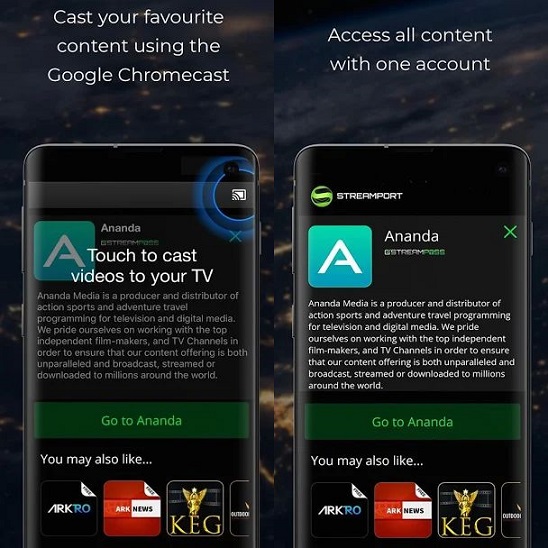 Finding what you need and moving through the various areas of the app is very easy. What is unique about Streamport is that once you step into a streaming service from within the app, you are submerged into its environment, as if you are in their app. Coming back to Streamport is quick and easy – just click on the left menu and select Back to Streamport. This allows you to move from one channel to another.
Any content you purchase will be available to view live and for another 7 days, so you won't miss a thing – which is sometimes the issue with streaming services – no dvr. Should you have issues with your account or with streaming, customer support is there to help 24/7.
While the current subscriptions are for full content on a channel, the app developers are working on offering limited subscriptions, so you don't have to pay the full channel price for content you don't want. Account subscriptions auto-renew for convenience, but you can turn this off in the Account Management area of the app.
I like the black background as it highlights all of the icons and menu options, but I would completely do away with any patterned wallpaper or backdrop, as this creates a lot of visuals, making it harder to see where the different channel icons are.
Streamport is certainly an app to consider if you are looking for a way to stream and manage streaming accounts from one place. It gives you more time to enjoy your content, without having to worry about how to manage it.