We all embrace those happy moments life brings us. While there are joyful moments, there comes anxiety and stress, making us seek comfort in things. Most of us either live in the past or contemplate the future that we often forget to observe the beauty of the present.
One of the effective ways to live the present is through meditation. And when you master the art, you become more self-aware, be mindful of your actions, respond to situations rather than react and become a better version of yourself.
As simple as it may sound, it takes a lot of self-control and discipline to remain calm during meditation sessions. With that said, let us have a look at an app that helps you conquer your negative thoughts & emotions and engage your focus on the positive aspects of life.
Spiritual Me: Daily Meditation by Spiritual Me LLC is a Health & Fitness-based Appstore app that lives by its words. You click on the installed app icon to the ambient sound of oceans that assures to calm your soul. The app presents several paid themes, of which the Peace Theme is free for you to try. This theme includes seven exercises that range from guided meditation to mindfulness activities. No registration is needed.
Happy, silly, proud, loved, excited or confident – how do you feel at present? Select that emotion; choose a personal trait that you wish to get rid of or see reduced. A set of voice guidance follows, instructing you to take a few yawns, loosen up, stretch, inhale & exhale and relax for as long as you want to. You can mute the background ocean sound and voice guidance if you feel that it meddles with the silence.
The app also suggests activities to express you creatively. You can draw patterns or objects on the screen using slow or fast movements with eyes closed. Spiritual Me also offers you selected spiritual books such as Tao Te Ching, Job – Song of Solomon, The Holy Quran to choose. You can read the quote, close your eyes and ponder, listening to the sound of the ocean.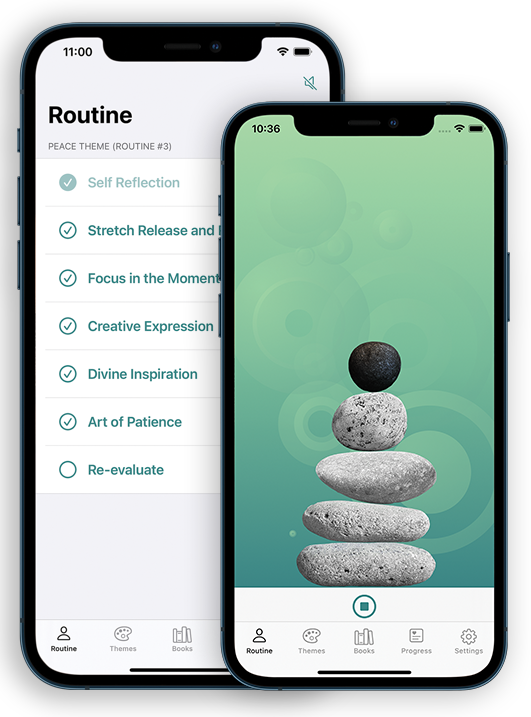 The Art of Patience is yet another activity that gives you the ability to create obstacles such as rocks by double-tapping the top of the screen, be wary of the arising frustrations, and the pleasure of destroying them with a double-tap.
When you practice all the exercises at least once, you will notice small but instant changes in yourself. As you continue using the app regularly, you will fall in love with the new you and live a life of lower stress levels, less irritability, and alleviating anxiety.
Integrated with the Apple Health app, you can also add Spiritual Me to the Apple Health app after each meditation session. You can also track your progress, receive daily tips & reminders combined with high-quality relaxing nature sounds.
What are you waiting for? Download the app now, reduce your stress levels, and relax. You deserve a break.