When your day gets hectic and you want to step away for a few minutes to help clear your mind, one method that is can be effective is meditation. Now, many of us find it difficult to shut out the world around us and focus inwards. It's the very core of what is so popular these days – mindfulness. Mindfulness can be looking inward or just focusing on being in the here and now. The reason why it's so difficult these days is because we have so many stimulants: smartphones, laptops, tablets, smartwatches and more. There are so many things silently calling out to us, we can resist the temptation to keep opening them up and checking in on them. This can not only be distracting but a big drain on your wellbeing.
MindT – Meditation and Sleep is an app that offers users a variety of meditation practice and calming sounds to help people break free from the temptations around them and allow their mind to have rest. A rested and calm mind helps you focus when you need to and allows for you to drain the tension and anxiety that has accumulated, so you feel recharged and ready for a new day.
MindT is not the only app that offers a mobile form of meditation, but it certainly has a wide variety of mediation sessions that vary in type and in length. This makes it easy for any user to fit in a meditation session based on their individual schedule, so it's not another source of stress trying to get time to meditate or even find the right kind of meditation to practice. MT mindfulness app offers an easy way to find the meditation session that meets your needs. You can search by type of session: relaxation, calming, guided or unguided, fear, panic attacks, energy, and so many more. Users can easily target what their current state of mind and apply the right meditation to help them overcome it.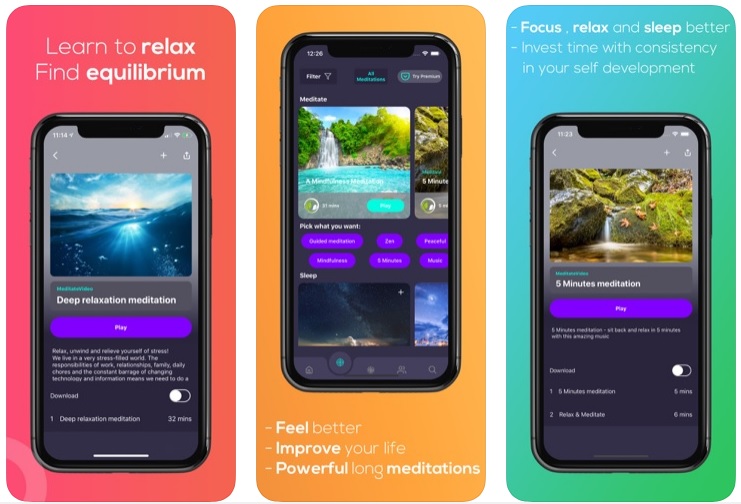 Sessions are also labeled with timings so you know which ones to choose based on how much time you have. You can start and stop as needed. This makes is very easy to start a session without having to stop it midstream, which essentially nullifies the effect of meditation.
The option to purchase a Premium account is available, with various payment options. This opens up the ability to download sessions, gain access to an extended offering of sessions and music, and see new sessions on a weekly basis.
What was confusing to me was the ability to use the app without creating an account, even though the app has a sign in page. I would think that this would be disabled if you were not a Premium user, but not sure of how this was implemented.
This app is super easy to navigate through and it's very easy to find a meditation session or music to listen to, based on what your end goal is. If you are in the market for a good mindfulness or meditation app, consider MindT as a good choice.