A lot of games on the Android Market are easy to play and get repetitive and boring after a little while.  I'm constantly on the lookout for any new challenging, competitive and creative games. My latest pick is Marble Jetpack. A simply designed yet highly entertaining front view game, you play as a marble that can move, fly via a jetpack and shoot at enemy objects. But there is a catch! There is a time constraint that not only pushes you to your extremities but can cause you to curse out loud because you missed the exit by a second. All in all, highly addictive!
There are three choices at the outset. Arcade, Challenges, and Adventure. You start off with the 'Arcade' mode that has 5 levels including a 'training' level. Only when you complete the 5 levels in 'Arcade' mode, can you move on to the 'Challenges' mode. The 'Adventure' mode is currently advertised as "coming soon".
It took me a couple of tries with the 'training' level. At first the marble seems hard to roll around and I could not stop it at the exact place I wanted it to stop. But I didn't give up. And folks, that is the key to this game: Perseverance.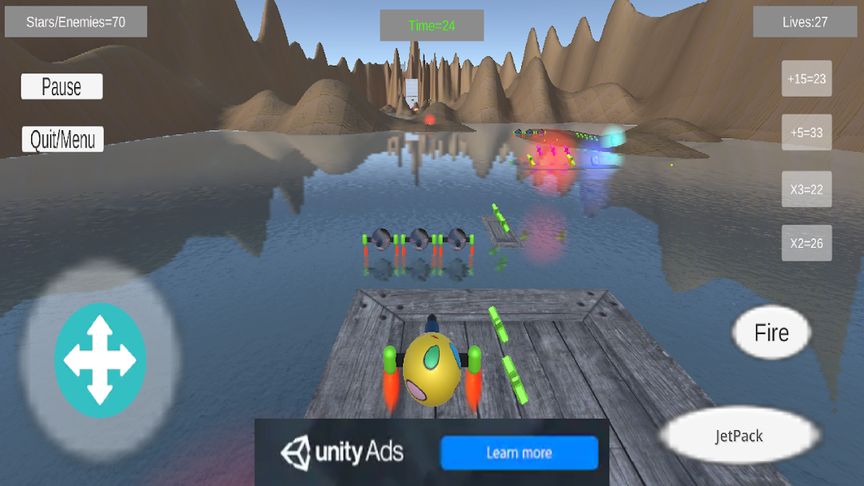 After a couple of tries I got used to the physics of the marble movement and it kind of became second nature for the marble to move where I wanted it to go and stop exactly where I wanted it to stop. Kudos to the makers of Marble Jetpack! So often you come across games that are simply lazy in their movement options. Not so here. Both the acceleration and braking mechanisms are simply spot on, with a bit of practice that is.
After the first goal was reached, my marble gained a jetpack to flit from one island to another. The ever-inquisitive player that I am, decided to roll into the water without flying. Bam! One life down the drain. Or it would have been if it wasn't for the training mode, I was in. So, jetpack it was then. Boosting my marble in the air, I realized flying and moving was slightly easier than just moving earlier. Soaring through the skies as I landed at the finish point. Round 2 of training done with.
Round 3 of training enhanced my marble with a fire option as well. Quickly wrapping my head around the fact that my basic roly-poly marble in a short span acquired the ability to fly and shoot, I decided to move on to the actual game.
Level 2 blew me away. I had a time limit, I had objects shooting at me that I had to dodge and blow up. I had stars to collect and I had to jetpack from island to island without drowning. All I can say is that it took me an hour to finally reach the end of level 2 and I was thoroughly exhilarated by then.
This game is not for the faint hearted. I think it was designed keeping serious gamers in mind, those that are on the lookout for highly competitive and engrossing mobile games while the time away. First timers or newbie gamers might find it a little daunting; though on the other hand, if they can master Marble Jetpack then they are well on their way to gaming paradise. The graphics are simplistic and to the point. I personally think the interface could work on a bit of sprucing up.
All in all, a fun, addictive game that will definitely keep you riveted to your mobile screen.