Streaming services such as Netflix, Amazon Prime, Hulu, and others, have seen a surge in their popularity over the years, especially among the millennials. As per Nielsen, 80% of the population in the US have reported using a streaming service during an average week. At the same time, the set-top box (live TV) usage has decreased to 56%. The streaming industry is booming in other countries such as China and India, as well. The significant population of young people in these and other Asian countries is generally more fascinated by the films and TV shows that the Americans have to offer. The vice versa may also be true. But geo-restrictions don't allow them to stream the content available in other countries. Thanks to apps like KeepSolid SmartDNS, you can get rid of all these restrictions to stream your favorite content for a binge-watching spree.
Based on the latest technology, KeepSolid SmartDNS allows you access to the US and EU DNS servers, which in turn enable you to unblock the content available on the streaming services in those regions. It allows you access to even the blocked websites in your country. It does so by re-routing your DNS queries through US or EU servers, effectively hiding your location from any third-party observer. KeepSolid SmartDNS underpins the philosophy of freedom on the internet and makes sure that nothing comes in between your desire to access the content that you like, anytime, anywhere.
When it comes to the app's user interface, I found it quite minimalistic and very easy to use. First of all, you are required to sign up using email, Google, or Facebook account and register your IP. Then, with just a single tap, you can connect to the US or EU servers and enjoy your favorite shows. On the home screen itself, there is an option to see the purchases where you can find the subscription plans: opt for 1-month, 1-year, or 3-years, as per your needs. While you automatically get a 7-day free trial, the subscription plans are quite affordable, too. On the help screen, several manuals corresponding to various devices and operating systems are available that help you manually set up your SmartDNS. From the settings, you can manage your IP, turn on the dark mode, get customer support, and also check app recommendations by KeepSolid.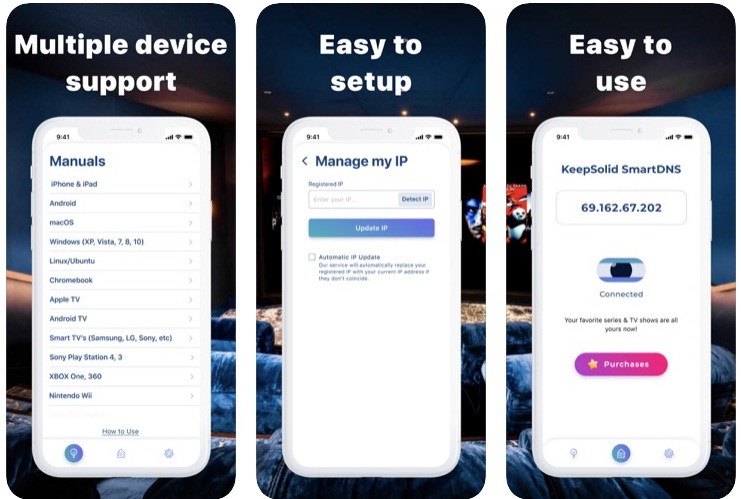 You may ask what sets KeepSolid SmartDNS apart from other services like a VPN. Well, the answer is the underlying technology and end-use. While VPN offers privacy and protection, SmartDNS solely works to bypass geo-restrictions. It doesn't mask your IP address. Since VPN also encrypts your traffic and route it through secure servers, it slows down the speed. It is not the case with KeepSolid SmartDNS, and the unaffected speed makes it a perfect solution for streaming video content. Another outstanding feature of KeepSolid SmartDNS is its multi-device compatibility. You can use it not only on your Android phone but also on Smart TVs, Chromecast, gaming consoles, routers, etc. as you are not required to install anything and can set up a connection manually.
Certain areas can be improved upon to make it more user-centric. Adding support for more streaming services and reducing the time to get back to a customer's query will help KeepSolid SmartDNS establish a better rapport with the users. Still, I found it to be a worthwhile solution when it comes to accessing the geo-blocked content. Download the app from Play Store for free and check for yourself its amazing ability to give you unlimited access to your favorite movies and TV series. It will not let you down.
KeepSolid SmartDNS is a reliable way of doing away with restrictions on online content.