According to a recent survey, 68% of parents agree that educational apps help their kids learn concepts faster, and 67% agree that apps make learning math fun. If your toddler knows how to swipe before they can hold a piece of apple in hand, you should check this app out.
LogicLike: Games for kids is an educational app developed by LogicLike – Educational Games and is available for download on the play store. The app offers a wide range of categories, including logic, mathematics, the natural world, countries, chess, technology, creativity, and fun & trivia. The app content is exclusively curated by an experienced team of professional educators and psychologists. Also, the animations are top-notch and help reinforce learning.
To start with, choose your child's grade to unlock unique puzzles designed to match their intelligence. Then, pick a category that gets categorized further. For instance, if you choose Logic & Math, you will notice sub-categories like thinking, attention, focus, logic, 3D thinking, and more sub-topics that align with the theme. Every puzzle is voiced to enable your child to answer them with minimal adult supervision. When in doubt, they can replay the voiceover. As your child keeps answering the puzzles, they will unlock further levels.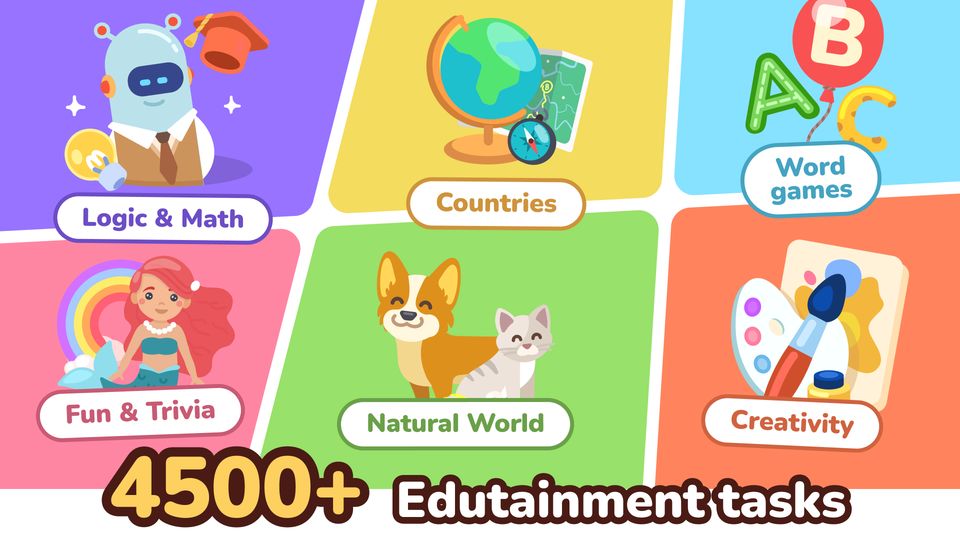 For every puzzle your kid solves, they get awarded points that keep summing up along with positive affirmations. 'You are super', 'Great job', 'You are outstanding', 'Amazing', 'Wonderful', and similar notes can boost your child's self-confidence and motivate them to perform better.
Coloring games are fun for kids of all ages as it fosters physical and psychological wellness. In addition to building hand-eye coordination and spatial awareness, coloring promotes creativity. Once your child finishes, you can take a picture of their masterpiece and save it to your gallery.
We all know too much screen time is harmful to those baby eyes. Every 20 minutes, LogicLike will prompt your kid to take a break. 20 minutes a day can do more good than you could ever imagine in making them clever and think out of the box. Solving puzzles level-by-level itself is like doing a course from the comfort of your home.
Also, there is this separate section for parents where you can track your child's performance date-wise with the number of puzzles solved and mistakes made. You can also view where your child positions themselves among their friends, town-level, and peers worldwide. The app is available in 6 other languages excluding English. Pause for a second before you change the language as it will clear your kid's progress and start the course afresh. Further, you can toggle the music on or off.
By opting for their 6-month subscription, you get the best value along with a 3-day free trial. Unlike other apps, LogicLike does not charge you before the trial period is over. As such, it will not take long for you to notice the positive impact the app has on your kid's IQ development. And you wouldn't mind continuing with the subscription and joining the community of 2 million families. Download the app now and share it with your friends on social media.