Gaming is one of the world's most popular pastimes. In 2020 there were an estimated 3.1 billion people who enjoyed playing video games. This staggering figure represents around 40% of the global population! Whether you enjoy playing a relaxing but mentally stimulating puzzle game such as Portal 2 or want to game competitively online at a first-person shooter or sports game, there really is a game for every taste. Today, many people want to take their gaming one step further by making a dedicated gaming room in their homes that provides a space for focused gaming in comfort and without distraction. If you are planning to make your ideal gaming room this article will be of great use as it explains three key points to consider that will help you achieve your perfect gaming setup.
Decide on hardware
The most important aspect of any gaming room is the hardware that will be used to play your favorite games on. This inevitably comes down to a choice between console or PC. Current generation consoles such as the PS5 or Xbox series X both offer an outstanding gaming experience with photo-realistic graphics and a growing library of AAA rated games. For many people, the pick-up and play aspect of owning a console makes it a perfect choice. One major downside to consoles is that they cannot be upgraded in the same way that PCs can. As the console goes through its lifecycle it tends to reach a zenith of game quality and the latest games push its capabilities to the limit. With gaming PCs components such as the graphics cards and RAM can be upgraded as improved components become available. This gives gamers the tools to make their PCs futureproof. Intel Gaming PCs are a great option for PC gamers as they come with game-ready specifications and have the potential to upgrade years down the line.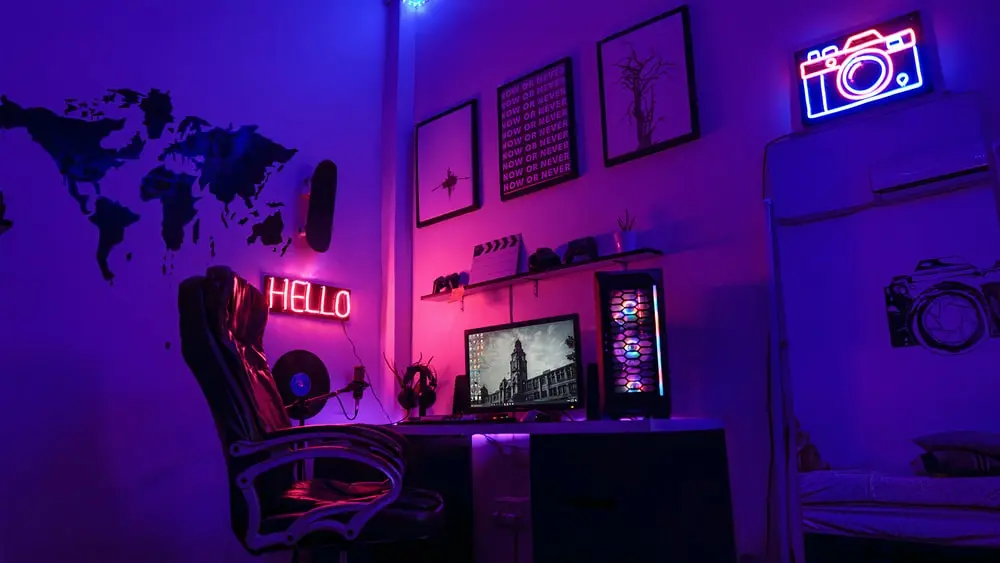 Invest in a gaming chair
Most gamers will play their favorite games for extended periods of time, sometimes for hours on end. It is important that this is done in comfort and a dedicated gaming chair makes a perfect addition to any gaming room. Today in 2022 there is a diverse range of gaming chairs that suit a range of budgets and tastes. Some high-end examples have the style and appearance of something found in a rally car and are made of durable but comfortable materials. If you do not want something overly eye-catching and flashy you could opt for a high-quality office chair that will serve the same purpose in a more understated way. Here are some of the best gaming chairs for 2022.
Consider lighting
As a final key point, the lighting setup in any gaming room should be given thorough consideration. Most gamers find that they want to play in a relatively dark environment that allows them to fully focus on the action taking place on the screen. However, it is important to have some low levels of lighting to reduce the risk of eye strain in extended gaming sessions. Consider purchasing LED strip lighting to provide a tasteful glow in your gaming room that can also serve to highlight key parts of your gaming setup. Installing dimmer switches on your main gaming room lights can also help you achieve an ideal level of lighting for gaming.