Across so many neighborhoods in the world, many people take daily walks. They walk in the mornings, at midday, and even at night. Everyone seems to be into the fitness section these days, and no one wants to gain weight. We all want to look fit and lose a few pounds so, we put in the work by exercising and working out. While some people have a tedious workout plan that involves a lot of equipment, others keep it to the traditional style of walking, jogging, or running. If walking is your workout plan, you should know that it is also an effective method of working out, but you probably don't keep track of your workout progress. I am about to introduce you to an app that will make walking better and more encouraging for you.
People get frustrated when they workout and they don't see progress or changes in their bodies, and they feel like they haven't put in any work at all. With My Walk Tracker, you get the encouraging feedback that you need to keep you going. Not only does this app track your progress, but the stats from your progress also encourages you to do better and assures you that you have been on the right track with your workouts. Let's have a walkthrough of what this app offers.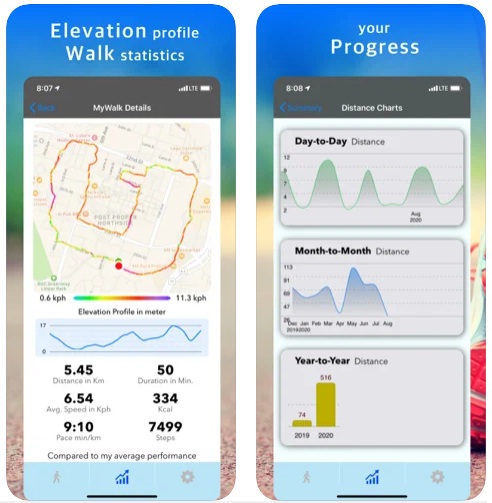 My Walk Tracker helps you; monitor your walk performance. It monitors both fitness walking, power walking, and race walking. The best way to use the features of this app is to walk outdoors and in open spaces where you can cover much distance like; parks and fields. It also provides a chart and time log of your workouts. That way, you can access your; distance in kilometers, pace per minute, the number of steps, and the duration in minutes. It also keeps a map track that outlines the area you walked. It also keeps track of all your workout sessions and your total workout hours.
One good thing about this app is that it keeps the records of your day-to-day distance, month-to-month distance, and your year-to-year distance, so you can always refer to your records. The app has many features that make it user friendly. To get a more detailed calculation for your performance, you need to create a profile and provide your personal data before taking your first walk; your data is stored locally on your device, and you can always back up your walk data regularly to the iCloud to avoid losing your progress. Also, when you switch to a new device, you can access all data progress.
To get accurate feedback on the progress of your workout sessions, you should download the My Walk Tracker app at the App Store. This app will not only help you keep a proper record, but it will also encourage you to do better with your workouts.