After announcing the results of an election, many people feel cheated. They assume that their votes didn't count, and it caused their preferred candidate to lose. Presidential elections have the most participation, which means more people feel cheated after a presidential election. What if there was a way you could get your preferred candidate to top polls and increase their chances of winning the elections? It sounds unreal, but there is a way to help your favorite candidate top the polls. All you have to do is put your favorite candidate in an endless race, and run thousands of miles till they top the polls.
Presidents Run is a game that offers you political participation while keeping it fun and interesting. In this game, all you have to do is pick your favorite president, run, cover miles, and top polls. It is pretty simple and straightforward. The game may sound too easy and boring, but it has a ton of exciting features that keep the gameplay fun and addictive.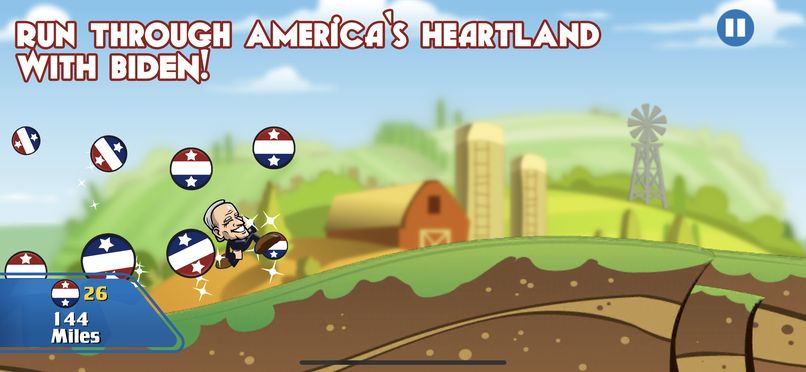 To start racing, you have to pick a candidate. The developers have put in some great presidential candidates for you like; Donald Trump, Joseph Biden, Kamala Harris, Jacinda Arden, Vladimir Putin, and Kim Jong Un. And zombified characters of past United States presidents; Abraham Lincoln and George Washington. You can start the race by buying one of the candidates with votes ranging from 35,000 to 25,000 votes.
The game has some awesome perks fixed into the race track to make the race exciting and more challenging. At the start of every race, there is a goal list for your candidate. Check every goal on the list to get awesome rewards. In the race tracks, there are interesting props lined up for you to make your race easier, less challenging, and more rewarding. Props like; Dual jets which would help you jump over holes two times higher, Electroboots magnets all votes. That way, you won't miss any votes on the tracks. Magic slippers will give you double votes, and Triple Busters. Pick votes from the race track to increase the number of votes you have. You can use your votes to make an in-game purchase from the game store like; buying new presidents, purchasing props, and upgrading your shoes from the game store. The purpose of the Presidents Run game is to get your candidate to top the polls. To do this, you need to cover thousands of miles while you run. Try not to fall into holes, and avoid things that would make you fall like; paparazzi, the liberty bell, protesters, and many more. Remember, running for thousands of miles gets your candidate to the top.
Look out for new updates that will include new characters and more perks. Some of the updates include; increased miles and votes, new props like the COVID-19 mask that gives your candidate 25% mileage for each race, and many more. More items and features will be added to the game to make it more fun. Whoever thought politics could be so interesting.
If you want to know who stands a chance of winning the upcoming elections, head to your app store and get the app and if your favorite candidate isn't at the top, get racing.