Eudaimonia Recovery Homes has made a name for itself in the world of sober living service providers since its beginning in November 2009. Now with the launch of its app called ERH Residents for its clients, it has taken another step towards helping people struggling with addiction find a way to lead a sober and fulfilling life. According to American Addiction Centers, the relapse rate for substance use disorders is between 40% and 60%. In such a grim scenario, apps like ERH Residents can be an additional tool that may be used to bring down this high rate of relapse.
The ERH Residents app's simple user interface with Eudaimonia's iconic green-colored theme makes a great first impression while also making apparent its ergonomic design. The app provides several functions to its users that make the recovery period go smooth, hassle-free and filled with some fun. At the outset, the ERH Residents app asks for permission to use geographic location and app usage information which will be the key for a successful stay. But don't worry it is not tracking your movements if you are concerned about privacy. Its main functions include the option of getting quick support in case you need to reach out to them. There is a list of options such as detox, inpatient or outpatient treatment, sober living, and so forth to choose from. In the property menu, you can find property guidelines, maintenance requests, departure notice, and your payment plan request. The requests made under the aforementioned menu go directly to the site manager so that prompt action can be taken. Under the program menu, you can find a list of everything that you may need to participate in the sober living program, such as check-ins, meetings, guidelines, rewards and so on. In the school and employment menu, you can find the education and employment opportunities in your area.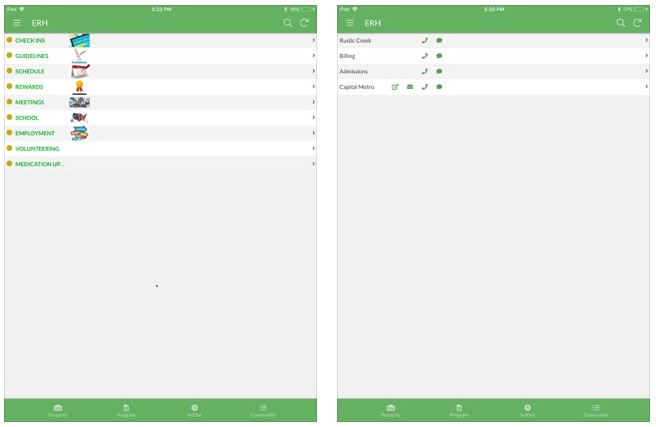 ERH Residents is, therefore, a quite comprehensive app that packs everything that a person is looking for to help him on his way to recovery. Another interesting feature is the community menu and the game center menu. The former allows you to keep a tab on all the social events for your sober home and enables you to schedule one yourself if you wish to. It also has recovery resources that can come handy at difficult moments. The latter contains your points that you gain by attending meetings, completing drug tests and other tasks and thus, keeping you engaged and motivated.
Addiction is considered a highly treatable disease if there is proper intervention at the right time. Out of more than 20 million people above the age of 12 needing treatment for substance use disorder in 2017, only 4 million could receive it. This data highlights the need for greater penetration of recovery services such as Eudaimonia Recovery Homes to tackle the problem of drug addiction.
ERH Residents app, with its simplicity and high accessibility, can make the much-required difference in the way we approach the problem of rehabilitation in case of substance abuse. If you struggle yourself with a similar problem or find your loved ones entangled in the web of addiction, then the ERH Residents app can be your first step towards getting your loved ones' or your own life back on track.