Have you ever been in a situation where someone went above and beyond to help you? Maybe they helped you move into your new apartment, pulled an all-nighter to help you finish a project, or got you out of a traffic jam. You feel immensely grateful, but the challenge is finding the perfect gift to show your appreciation, especially when you're not sure what they like. Well, here's a genius solution: Send them flowers. It's a surefire way to bring a smile to their face.
With so many flower delivery apps on the Play Store, finding one that has a wide selection of flowers can be challenging. However, there's one standout option: the eFloristApp. Developed by Wineflowers.com, the app ticks all your boxes, boasting an extensive collection of visually pleasing floral ideas. But what makes it stand out is its global reach. It delivers your order to more than 120 countries worldwide.
To begin, download the app and sign up. Double-check your email address and phone number, as this ensures seamless communication and timely deliveries. You don't want your order to end up in the hands of a stranger, who'll be confused yet delighted.
Once you register and provide the precise recipient address, you're free to browse through the delightful inventory. From classic roses and lilies to more exotic blooms like orchids and gerberas, the app has something for everyone. When you order flowers for special occasions, you often ask yourself, "What kind of flowers should I order?" After all, sending the wrong flowers can sometimes convey the wrong message. But worry not! eFloristApp comes to the rescue with handy descriptions that not only explain what each flower signifies but also suggest the occasions they are best suited to. This makes your gift truly special and meaningful.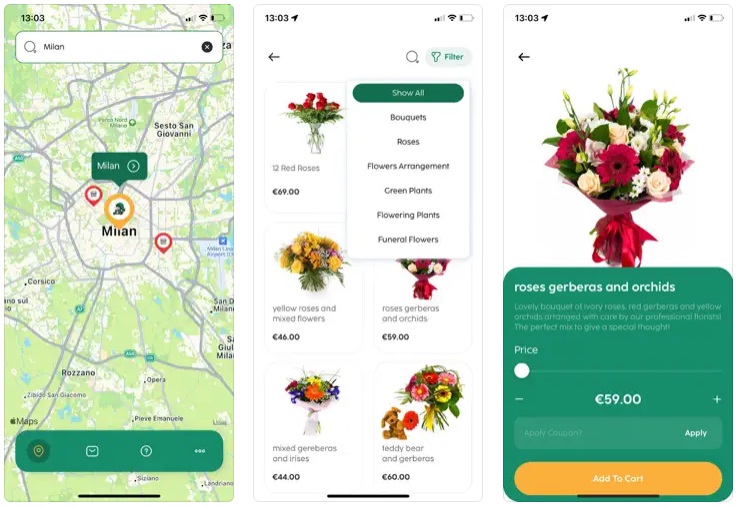 eFloristApp doesn't stop at flower arrangements, roses, and bouquets. It also offers lush green & flowering plants and funeral flowers. This diverse range ensures that you find the perfect gift for any occasion.
Now, let's explore their pricing policy. No more guesswork—find prices clearly displayed beneath each item. Even better, if you choose to add more flowers to the order, the price adjusts accordingly. And when you're ready to purchase, rest assured your financial information is safe. Your transactions are secure with eFloristApp.
For weddings and funerals, expect on-time delivery. During festival seasons, as well as for orders scheduled for Sundays and same-day deliveries, it's likely that your delivery may arrive the next day, guaranteeing the freshest blooms.
But what truly sets this app apart is its unique feature – the ability to complement your flower order with funny pictures or even a delicious cake. And their reliable customer support. Studies even confirm that personalized orders like these leave recipients feeling special and celebrated.
Rarely, the type or quantity of flowers you request may not be available at the delivery location. In that event, their dedicated local florists will replace them with equally beautiful blooms that match the price.
That being said, eFloristApp stands as the top choice for sending fresh, fragrant, locally sourced flowers to loved ones. With a curated selection of classic and exotic blooms, you're sure to find the perfect bouquet or green plant for any occasion. So, why wait? Download the eFloristApp today and send a bouquet of joy to someone you care about!