From leveraging the Pomodoro technique, planning your day the night before, reducing distractions to disabling social media notifications, there are a lot of productivity hacks. Yet nothing can beat our good-old To-Do list.
Feeling overwhelmed by the never-ending list of tasks that extend up to the horizon? Missing deadlines or forgetting important things? A properly panned-out To-Do list makes you productive and saves you from a lot of headaches.
With the app store oversaturated with complex productivity apps that demand you go through their guide even to understand the basics, finding THE ONE that best suits your needs become a challenge.
The pain is real.
Finale To Do: Tasks & Widget is a simple yet powerful productivity app developed by Grant Oganyan and is available on the app store. The flexible app helps you organize work, studies, bills, shopping lists, holiday planning, and everything you can think of.
To start, you need to make a one-time payment to gain unlimited forever access. No yearly subscriptions, premiums, pros, or whatever. Click on the installed app icon to enter your name and turn notifications on/off. However, enabling notifications helps you stay on track and on the timely completion of tasks. Also, you can sync the app with iCloud and access your saved data across multiple devices. That's it, you are all set.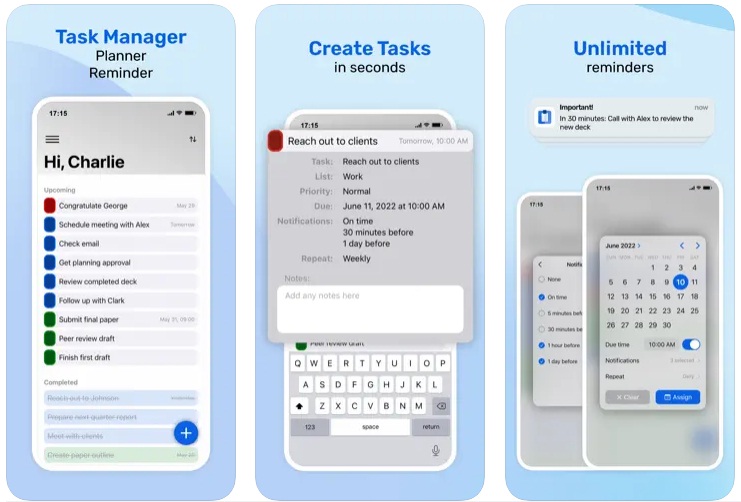 Benefits of using Finale To-Do
Create tasks within seconds
Add notes to the tasks
Set reminders and due date
Informative home screen widget
Unlock achievements and badges
Earn perks as you level up
Click the + button to add tasks to the default list. You can also create a new list and group similar tasks. Long press a task to add notes, set a reminder or a due date, and assign priority. Add an exclamation mark to the task name to make it 'high priority'. Drag and drop tasks reorder. And once you are done with a task, tap the colored handle or slide it to the right. You can view all the tasks on the overview page and sort them by the time of creation, due date, priority, and name.
Every time you complete a task, you will be awarded points. You can earn up to 500 points a day. As you keep gaining points, you will level up. Certain levels have surprise rewards in store to keep you motivated. Perks include cool themes, colored app icons, unlimited notifications & list creation, and up to 100 completed tasks in history.
Can't wait to level up and unlock all perks? You can get immediate access to all of them for a symbolic price.
You can also view your points, completed tasks, days active, and streaks under the statistics tab.
Finale To Do: Tasks and Widget helps you hold less in the head, prioritize tasks, create order, relieve stress, improve productivity and make you a better person. What are you waiting for? Download the powerful app now and share it with your friends too.