Not everyone is a whizbang at math, so if you've been looking for a fun way to ramp up your arithmetic skills to either be show off or just make them stronger, Crystal Math – Numbers on Speed can help get you there, fast.
A fun play on words, alluding to something slightly more onerous, the game can be just as addicting, as you work you way through the various arithmetic calculations. The calculations are not difficult, but can take time if you've not done math in your head for  a while.

What is neat about this app is that it times you, so you don't have all the time in the world to complete the calculations. This may be discouraging at first, but you'll find out really fast that it's the best way to learn you additions, subtractions, multiplication and division facts.
To start, you simply download the app and there is no registration required, which I really liked. From there, you can choose to play from four different categories of game play: Daily Challenge, Duel, Time Attack, and Free Game. I started with Free Game to give me an idea of how to play the game before taking on more challenge. While there is a time limit, it doesn't really count because you are just playing against yourself.
From the main screen you also have options to search for and request connections to Friends and get updates from the News panel. There's also a Statistics screen, but I'm not sure what that really tells you. For each game category you can see the total number of times you've opened the app and the number of games you have played.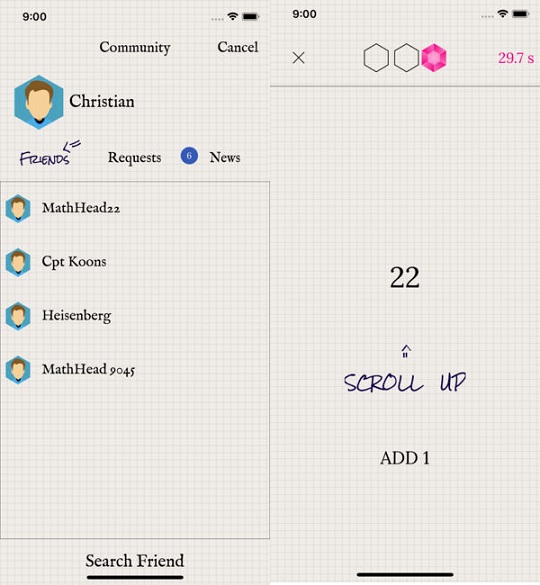 You can also set up some Achievements, to set some goals that you can work towards. Without goals, it's hard to keep the pace, and goals are a great way to get a lot of practice, and you know that practice makes better!
Most of the game categories allow you to choose from three different levels of difficulty: Easy, Medium and Hard. I would recommend starting from Easy to see how well you do first before you move on for more challenge.
If you want to get fully immersed, then create an avatar and show the number crunchers out there what you're made of.
What I was initially confused about was the usage of ":" for division. At first, I did not know what to do with that calc, but then I figure if it wasn't one of the other three arithmetic expressions, it must be for division.
The more I played, the more I wanted to play. It was addictive, but in a good way. The more you play, the better you'll get at basic math – enough to wow just about anyone around.