A warm bath just before bedtime can be a relaxing way to wash away the day and set yourself up for a long restful night of sleep. Using candles and soothing sounds can add to the calming factor, but if you are looking for an even more immersive experience that surrounds you in a sleep inducing state of bliss, you have to download Bathsleep.
This app is a sound and light machine wrapped into one app, and it can span execution over several devices. Yes, you can download Bathsleep onto more than one iOS device and "play" it simultaneously to run in sync.
First, Bathsleep plays your favorite calming music, producing a euphoric sound experience by using the OFURO DSP system. If you have Bathsleep downloaded on several devices, you can open the app on all the devices, make one the primary, and play the music on the primary. All other secondary devices will play the same music, creating a stereophonic sound that fills the bathroom or bedroom. The OFURO DSP option also allows you to tinker with the sound using a built in equalizer and sound adjuster. Please note the use of the OFURO DSP system is available only on a paid subscription.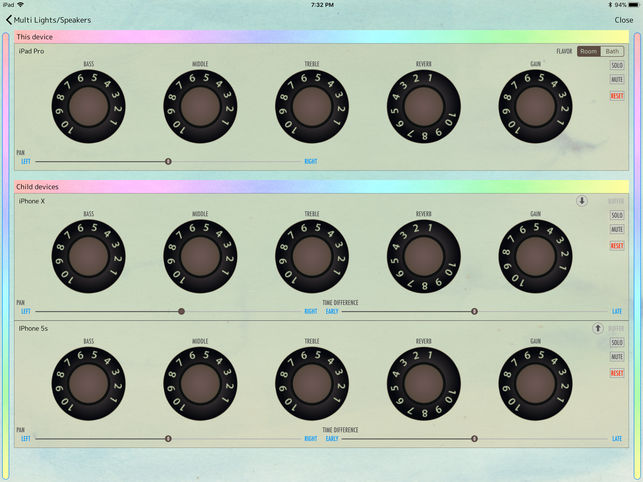 Second, Bathsleep uses what I like to call mood lighting to add visuals that help calm you. This can be used on one device or on several. If you choose to use Bathsleep on more than one device, each device will sync up its lighting in such a way that adds to the calming effect. The best part is that you get to control the light patterns and color choices and how fast you'd like to see them transition.
I have used this app several times now, and have found it extremely effective in creating an environment in which I can forget about what happened that day and move my way towards a state of sleep. It allows you to start your journey to relaxation from the bathtub all the way to the bed. What would be nice to see is an option to use the app for study or focus time, in a way to helps you drown out outside noises.
No app can put you to sleep all on its own, but Bathsleep sure makes it a lot easier by bringing together the experience of a calm bath and bedtime linked by the sounds you hear and light effects emitted by the app, from the start of your bath all the way to the moment your head hits the pillow.