"A budget is more than just a series of numbers on a page; it is an embodiment of our values" – Barack Obama.
Instead of wondering where all your money went, you can tell your money where to go with proper budgeting. A budgeting app will help you gain maximum control over your money by recording your income, expenses, and savings.
With plenty of apps promising you excellent results, choosing THE ONE that suits you the best can be cumbersome. There are the fancy ones that demand you to create an account, enter personal details, and when you finally get a glimpse of the app's home page, it is all Greek and Latin.
The best are always the simplest, straightforward ones. Budget hound: Smart spending is one such simple Budget Planner iOS app developed by Aleksandr Romanov. The app only focuses on what is needed and does not waste your time with unnecessary data.
The app is small-sized and gets downloaded & installed with the snap of a finger. Once you click on the app icon, you will be prompted to set your currency. Choose the month for which you are about to plan the budget, and enter your income sources by adding them along with the approximate amount in your local currency.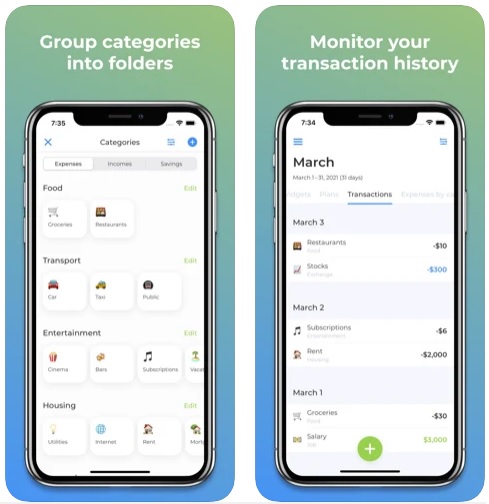 On the next page, add your monthly expenses like groceries, rent, internet, mortgage, insurance, one after the other. And finally, mention the amount that you wish to set aside as savings for the month. With the click of a button, Budget hound: Smart spending will do the math for you and come up with your daily budget.
The app's home page will show you your average expenses from the start to the end of the month, expenses you did today, planned, and total spendings & savings. Click on the plans tab and add an income source or expense that you had forgotten to add earlier, all in a few seconds.
Not sure if you have covered all your expenses? Navigate to Menu > Categories > Expenses and check out all the expense categories. You can add a folder, add items to an existing folder, and delete unwanted ones. For incomes and savings also you can follow the same process.
The more you use Budget hound: Smart spending, the more you understand your top expenses and can take measures to cut down unwanted expenses. You can also see how much money is on your account, view the history of transactions you made since the app's installation, and carry out competent financial planning. Since the app does not ask you for your bank account or card details, you can be completely safe from security risks or sharing of your private data.
Budget hound: Smart spending is the simplest yet effective budgeting app for starters and pros alike. Download the free app now, keep using it for at least a month, and give yourself a pat on the back for nothing can stop you. Enjoy using it already? Share it with your friends!!