The Ultimate Cruise app helps you prioritize your tasks quite effectively. It is not just like any task manager because it doesn't only manage your tasks, but also prioritizes them.
Furthermore, Cruise has multiple features in it that make it the #1 task prioritizing application. Every day, you can check the list of projects previously prioritized and categorized by you. These are dependent on the standards that you have set already and can be adjusted at any moment.
What makes it stand out from other similar apps is the user-friendly interface and attention to detail. In a few minutes, you can assess how to use the app. For example, in the task list, the tasks are sorted in order of priority so it's always easy to keep track of what you should do next. The app also comes with a dark mode which is a fan favorite of young people these days. Easy on the eyes, and stylish.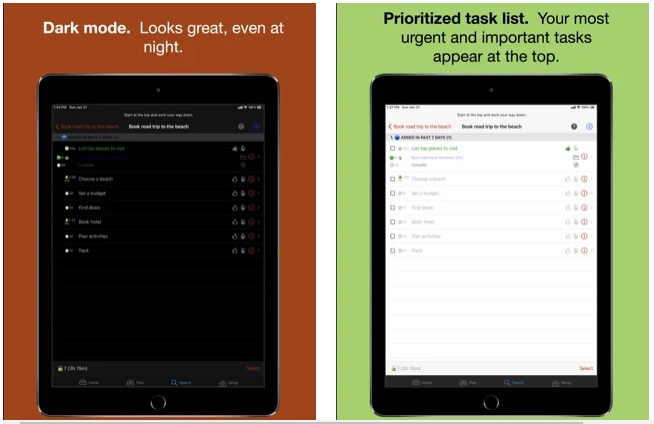 The app is free of cost so it means you don't have to worry about your money getting wasted. For the feature set that it provides, it is an app that should definitely be on any project manager's personal device. The UI is responsive and the overall look and feel is warm and comfortable.
Multiple Outstanding Features
Easy Task Managing
Other applications offer task managing but, it is too complicated. With Cruise, you can manage all your tasks and projects effortlessly, without getting irritated.
Task Prioritizing and Reminders
Cruise also helps prioritize your tasks. You only have to add up your projects and any related information. The rest of the work is up to Cruise, and you don't have to worry at all. Moreover, you can set reminders for the due dates of the projects. The app will let you know when a project has to be completed.
You don't have to install another application to set goals for yourself because Cruise also has this feature in it. You can set your aims in the application and maintain your lifestyle.
Who Can Use The Cruise Application?
You can use the Cruise application if you are:
A hardworking and determined student.
A business professional.
A busy parent.
However, the Cruise app is not limited to the above categories. Anyone dealing with tasks and projects, no matter what age, can use the cruise application.
The Cruise-Task Prioritize‪r application is undoubtedly the best task managing and prioritizing application. It is highly recommended if you are someone who has to deal with projects every day. A project manager's life can become easier given the right toolset, and the Cruise Task Prioritizer can do just that for you.